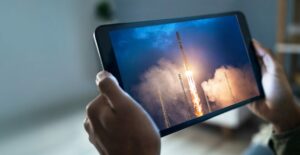 Paris, 22 March 2021. – The LEO fleet operator OneWeb signed an agreement with the British component manufacturer SatixFy to provide Wifi connectivity on planes, the European Space Agency (ESA) announced.
Communications company OneWeb signed an agreement to deliver Wi-Fi on aircraft with SatixFy, a British manufacturer of electronic components, ESA said.
SatixFy will develop in-flight connectivity terminals for OneWeb's constellation of low-Earth orbit (LEO) satellites, as well as for geostationary satellite networks, the agency said. The cooperation is to substantially boost broadband services and Wifi speed on planes.
The terminals will use electronically steered multi-beam antenna technologies to provide multi-beam capability and operate simultaneously via many different satellites, ESA said.
The terminals use SatixFy's integrated circuit chip set which was developed with the support of the UK Space Agency and through ESA's Advanced Research in Telecommunications Systems (ARTES) program.
OneWeb has 110 satellites in orbit today and foresees a constellation of about 650.