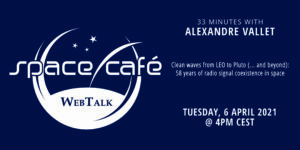 Join SpaceWatch.Global for an interesting and informative Space Café WebTalk featuring Alexandre Vallet, Chief, Space Services Department, Radiocommunication Bureau at ITU, International Telecommunication Union, Geneva, Switzerland. This event will take place on 6 April 2021 at 4:00 pm CEST.
In 1963, only six years after SPUTNIK, more than four hundred people from 70 different countries gathered in Geneva to attend the first conference on space radiocommunications convened by the International Telecommunication Union (ITU).
This conference finally allocated more than 6 GHz of radio frequencies (about 15% of the overall radio spectrum allocated at that time) for the various kinds of space services and for radio astronomy. More importantly, this Conference initiated a continuing flow of global regulations and standards on the use of radio frequencies in outer space. In order to ensure that adequate radio-frequency resources are available to new space applications and that procedures to get access to spectrum/orbit resources to remain fit for the evolving space operations concepts, the ITU Radio Regulations, the international treaty governing the use of orbit/spectrum resources are regularly updated.
This Space Cafe will be the opportunity to present what the Radio Regulations already address (more than often known), what main challenges lie ahead, and what solutions could be found.
The audience will have an opportunity to ask questions in dialogue with Alexandre Vallet.
This Space Café WebTalk will be hosted by Torsten Kriening, publisher of SpaceWatch.Global.
SpaceWatch.Global is a Switzerland-based digital magazine and portal for those interested in space and the far-reaching impact of the space sector.
This Space Café WebTalk will be conducted in English. Reserve your place today.