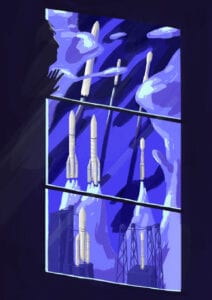 Luxembourg, 12 March 2021. – Beyond Ariane 6 and Vega-C: the European Space Agency (ESA) looks into the future of space transportation and has commissioned a study worth € 0.5 million to a space industry consortium, the agency said.
ESA is seeking early insights into long-term trends and potential evolutions in all application domains taking into account the needs of future programs currently under preparation, the agency said.
The study is part of the New European Space Transportation Solutions (NESTS) initiative; the consortium conducting the study comprises ArianeGroup, Avio and Rocket Factory Augsburg.
These companies will carry out research over the next few months to identify and recommend "preliminary elements for future space transportation solutions to be exploited in the period 2030–50", ESA said.
The studies are to be completed before summer 2021. They will feed the preparation of proposals to be submitted for decision at the next Council Meeting at Ministerial level in 2022.