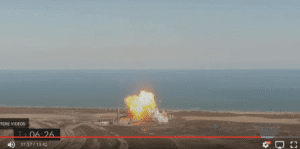 Paris, 3 February 2021. – They call it a "RUD": SpaceX's nineth Starship exploded when it landed back from its test flight in Cameron County, Texas, yesterday.
"During the landing flip maneuver, one of the Raptor engines did not relight and caused SN9 to land at high speed and experience a RUD," SpaceX said. RUD stands for Rapid Unscheduled Disassembly.
It was the second high-altitude test flight of a Starship prototype after SN8 in early December. SN8 also exploded upon landing. This time, the next prototype, SN10, was already queuing up next to the launch pad; it was apparently not damaged by the "RUD".
"These test flights are all about improving our understanding and development of a fully reusable transportation system designed to carry both crew and cargo on long-duration, interplanetary flights and help humanity return to the Moon, and travel to Mars and beyond," SpaceX said.
The SN9 flight was delayed because the Federal Aviation Administration (FAA) had reviewed SpaceX's "safety culture" during the SN8 flight. It approved SN9 after "corrective actions" to enhance public safety, it said. The FAA started an investigation into the "landing mishap" of SN9, the administration added.