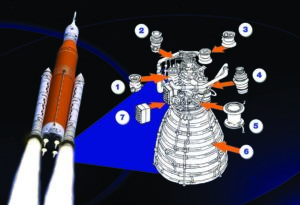 Paris, 1 February 2021. – NASA is testing, too: The U.S. space agency conducted the first hot fire test of its new RS-25 engine that will power the giant Space Launch System (SLS) rocket, NASA announced.
The test of the RS-25 developmental engine last week at Stennis Space Center near Bay St. Louis, Mississippi, marks the beginning of a seven-test series designed to provide data to Aerojet Rocketdyne, the lead contractor for SLS engines, as the company begins production of new RS-25 engines, NASA said.
Four RS-25 engines will power SLS at its launch, firing simultaneously to generate a combined 1.6 million pounds of launch thrust and 2 million pounds of thrust during ascent. The RS-25 engines for the first four SLS flights are upgraded space shuttle main engines and have completed certification testing, NASA said.
For the January 28 test, the RS-25 engine was fired for eight-and-a-half minutes, the same amount of time the engines must fire to help send SLS to orbit.
NASA wants SLS to be "the world's most powerful rocket"; the first SLS missions are planned to fly to the Moon, as part of NASA's Artemis program.