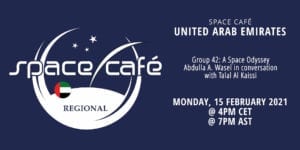 Join SpaceWatch.Global for an interesting and informative Space Café UAE featuring Talal Al Kaissi of Group 42 (G42). This event will take place on 15 February 2021 at 4:00 pm CET.
Talal Al Kaissi is the Vice President of Special Projects and the Space Program of G42, where his role is to support the various business verticals with special projects, as well as lead the development of a space vertical within G42 inclusive of an investment thesis, products and offerings that can leverage the robust AI and cloud computing capabilities G42 has, as well as provide support to the UAE national space program's ambition to develop a commercial space ecosystem.
After 2 years at the UAE Space Agency as an Advisor to the Director General on Strategic Projects, Talal joined G42 in September 2020. Prior to his role at the Agency, Talal served at the UAE Embassy in Washington DC for 9 years as a Senior Advisor for Commercial Affairs at the UAE Trade & Commercial Office and also led the US / UAE Space Affairs.
This Space Café  will be hosted by Abdulla A. Wasel, Managing Associate of Wasel & Wasel, Secretary to the Board of Directors of The Hague Institute for Global Justice and Member of the Space Generation Advisory Council.  The audience will have an opportunity to ask questions in dialogue with Talal Al Kaissi .
SpaceWatch.Global is a Switzerland-based digital magazine and portal for those interested in space and the far reaching impact of the space sector.
This Space Café UAE will be conducted in Arabic and English. Reserve your place today.