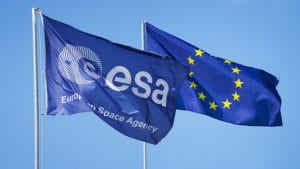 Paris, 1 February 2021. – More than twenty European Member States and the European Space Agency (ESA) met last week to set Europe's course and define its position on Space Traffic Management (STM), an official said.
The videocall on 28 January 2021 was the first in a series of monthly preparatory meetings leading to an European STM Conference, a high-ranked participant said. The conference had been agreed upon by the EU-ESA Space Council of 20 November 2020. It is foreseen that it takes place before summer of this year.
The meeting last week was attended by around 80 persons, representing Member States of both the EU and ESA. The European Commission together with the EU Council Secretariat and ESA executives participated as well. Both institutions will feed in their respective activities in STM.
During the preparations, the participants will define the scope of the conference and prepare a mapping of STM, supporting the internal policy-development but also to form positions vis à vis third parties and for international forums.
The preparatory process for a European STM Conference was initiated by Germany, which had put STM on the European agenda during its EU Council Presidency in the second half of 2020. The process is moderated by the German Ministry of Economy. While Member States, supported by the European institutions, will be the main actors in the preparatory process, industry and academia will also be invited to contribute.
Related articles: