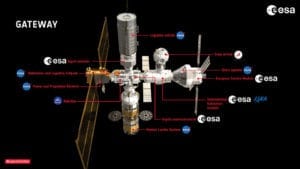 Paris, 8 January 2021. – The European Space Agency (ESA) contracted Thales Alenia Space to build the European module for the lunar Gateway, ESA announced. The contract is worth 296.5 million Euros.
The Gateway will enable the sustainable exploration around and on the Moon, ESA said, while allowing for space research and demonstrating the technologies and processes necessary to conduct a future mission to Mars.
The European System Providing Refueling, Infrastructure and Telecommunications (ESPRIT) will be a cylindrical module with space for astronauts to work in, much like an International Space Station (ISS) module, explained ESA. It will include an observatory offering 360° views of the Moon and spacecraft as they dock with the lunar outpost.
The module will be built by Thales Alenia Space in Cannes, France, in a joint effort with Thales Alenia Space in Italy and the United Kingdom.