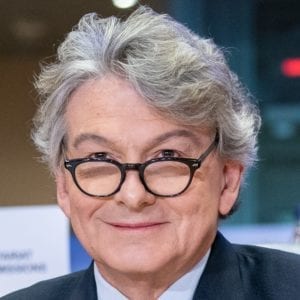 Paris, 13 January 2021. – Europe needs a more aggressive space strategy, the European Commissioner for Internal Market, Thierry Breton, said and launched the "European Launcher alliance" as well as a €1 billion European space fund, Cassini, "to boost start-ups and space innovation".
"We must ask ourselves: will our current approach successfully get us to 2050, considering the disruptions in the sector that we all observe?" Breton said at the European Space Conference yesterday. "I strongly doubt it, and I believe we need a more offensive and aggressive strategy."
"I will therefore gather in the next months all the actors to initiate a European Launcher alliance so to be able to jointly define, with ESA, the Member States, the European Parliament, the industry, a common roadmap for the next generation of launchers and technologies relevant to ensure an autonomous access to space", the Commissioner said.
"T) he Commission is ready to and will play its role", Breton added. "As the first institutional customer, but also being in charge of space policy at large and space industrial competitiveness specifically".
The new Cassini fund – which is set up with the European Investment Bank (EIB) and Fund (EIF) – will "cover actions on the whole innovation cycle, from business idea to industrialisation, building on the €100m Space Equity Pilot" launched last year, Breton said.
"I see the future of the European space industry as a combination of strong institutional leadership and European approach to New Space, one that is not a mere copy past of the US."
The Commissioner outlined his space strategy, built on four pillars: consolidating Galileo and Copernicus, with a second Galileo generation in 2024 and six new Copernicus missions; the "rapid" development of a "third infrastructure" for broadband connectivity, "designed as a multi-orbital initiative", combining LEO and other orbits like GEO; autonomy in launchers – supported by the new EU Commission-led alliance – as well as Space Traffic Management (STM); and the positioning of Europe as a hub for space entrepreneurship.
At a visit of ArianeGroup's French production site in Vernon (Eure) yesterday, the French president Emmanuel Macron confirmed to dedicate €500 million to the space sector – to innovate launchers and accelerate projects.