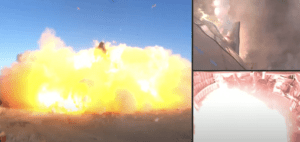 Paris, 10 December 2020. – SpaceX made the day again: Elon Musk's Starship SN8 exploded after a successful test flight of nearly seven minutes when SpaceX tried to land it back at its Cameron County launch site in Texas.
SpaceX went ahead yesterday afternoon with the long awaited first high-altitude test flight of its eighth Starship. The flight route was supposed to reach beyond the normal cruising altitude of airplanes where Starship SN8 was to turn round, descend and make a vertical landing at the launch site.
SpaceX did not provide the exact altitude which the vehicle reached. The landing was visibly too hard so that SN8 ended up in a fireball on the launch pad.
"Starship serial number 8 (SN8) lifted off from our Cameron County launch pad and successfully ascended, transitioned propellant, and performed its landing flip maneuver with precise flap control to reach its landing point," SpaceX said. "Low pressure in the fuel header tank during the landing burn led to high touchdown velocity resulting in a hard (and exciting!) landing."
The footage that SpaceX left on Youtube had already 3.7 million viewers on Thursday morning. "Awesome test", "nice work", SpaceX commented after the hard landing yesterday. "Serial number 9 (SN9) is up next – Mars, here we come!"