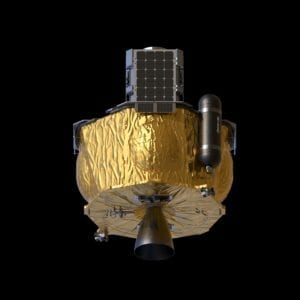 Paris, 14 December 2020. – Ready for the Moon: Rocket Lab will launch NASA's CAPSTONE lunar pathfinder on an Electron rocket with a Photon spacecraft in the second quarter of 2021, the company said.
The CAPSTONE satellite will act as a pathfinding precursor for lunar missions, including Gateway, a Moon-orbiting outpost that will provide vital support for a sustainable, long-term human return to the lunar surface under NASA's Artemis program, Rocket Lab said.
To travel more than 380,000 km to the Moon, CAPSTONE will lift-off on an Electron launch vehicle to an initial low Earth orbit, the company explained. From there, Rocket Lab's in-house designed and built Photon spacecraft will take the reins to provide in-space transportation, power, and communications for NASA's satellite until separation, when CAPSTONE will continue on its own trajectory to lunar orbit.
"Photon will also continue to the Moon to conduct a lunar fly-by as a secondary mission," Rocket Lab added.
CAPSTONE stands for Cislunar Autonomous Positioning System Technology Operations and Navigation Experiment.
Rocket Lab's next launch for the Japanese synthetic aperture radar (SAR) company Synspective is scheduled for tomorrow, 15 December, from Rocket Lab's Mahia Pensinsula launch complex in New Zealand.