by Dr. Malcolm Davis
SpaceWatch.Global asked its staff and contributors to review 2020 and provide an outlook into 2021. These personal reviews are being published during the holiday season. This is Dr. Malcolm Davis, Senior Analyst at  The Australian Strategic Policy Institute.
For Australia as a new space power, 2020 has been a year of sustained and steady progress in a number of key areas. Perhaps the most important step forward for the Australian space community has been the maturation of thinking and policy on the role of space in national defence. The release in July of the 2020 Defence Strategic Update and its accompanying Force Structure Plan clearly signaled that government now sees space as a key operational domain in its own right, which demands greater attention and investment –  at least $7bn AUD over the course of the decade. In particular, it emphasizes the importance of Australia developing 'sovereign-controlled' space capability for satellite communications, as well as geospatial intelligence, and it highlights the importance of assuring space control, including assured access to space, in a contested space domain.
This has some major implications going forward, not only for the way Australia's defence force thinks about the role of the space domain, but more broadly, the potential to shape Australia's commercial space sector in a manner that allows it to better contribute to future defence space capability. Ensuring the rapid growth of that sector is the priority of the Australian Space Agency and ensuring continued and widening engagement between the civil and commercial aspects of Australian space activities with Defence's emerging space capability requirements is a vital step going forward.
The emphasis on sovereign controlled space capability opens up prospects for Australian commercial space to develop 'small satellite' type capabilities that can directly complement larger and more complex (and more expensive) satellites to meet the demands of two key Defence projects. These are 'DEF-799 Phase 2' for sovereign controlled space-based intelligence, surveillance, and reconnaissance, and 'JP-9102B' for next generation satellite communications. Both will be sovereign controlled, but are likely to emerge with larger, more complex satellites, perhaps acquired from overseas primes, complemented by small satellites that are locally developed, in a 'high-low' mix of capabilities.

That's an excellent basis for expanding Australia's emerging satellite industry sector going forward.  The government's support for sovereign controlled space capability for Defence, as well as expansion of a satellite industry for civil applications as emphasized in the Australian Space Agency's Civil space strategy, published in April 2019, means that 2020 has seen a strong momentum gather pace that will sustain growth of Australia's space sector.
That's not to exclude the importance of the ground-segment, or the development of applications from space-derived data that can lead to new growth in key economic sectors. The Australian Space Agency, together with other government organisations such as Geoscience Australia and the CSIRO, recognise the potential growth of space-enabled commercial activity through projects such as SBAS, and with space-applications companies such as Myriota and Fleet developing a range of technologies for the 'internet of things' in coming years.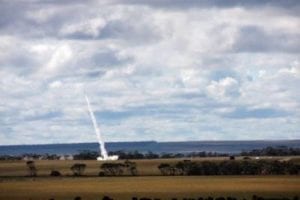 The third piece that seems ready to fall into place is, of course, sovereign space launch. The ability to launch Australian satellites on Australian launch vehicles from Australian launch sites, on a regular basis, is clearly the next step going forward. The lead company is Gilmour Space Technologies, which is moving towards a 2022 launch date for its Eris 1 launch vehicle, and Black Sky Aerospace is also a key player developing rocket technologies.  Two launch sites – one in Nhulunbuy, Northern Territory to be established by Equatorial Launch Australia, and a second at Whalers Way, South Australia, by Southern Launch– seem on track to be established. A third possible launch site, at Bowen, in Queensland, may also emerge in 2021.
Looking ahead, 2021 and beyond should see the steady expansion of Australia's space sector in a manner that is sustainable and supported by government, with new opportunities in satellite development, space-applications, and ultimately, sovereign launch emerging. Defence is poised to start a process that will lead to an update of its space strategy, and to reconsider how it is organized and postured for a greater role in space. Public interest in space has never been stronger and inspiring the next generation of space leaders continues. Thankfully, the impact of the COVID-19 pandemic has not seen a contraction in Australia's space sector, or a drop-off in governmental support to grow this new national endeavor.
There are some challenges ahead though. There's now broad recognition that space is not a peaceful and serene sanctuary that sits untouched above geopolitical rivalries below. Space is a warfighting domain in its own right, that will be increasingly contested as strategic competition between the US and China, as well as Russia, intensifies in coming years.
Australia, as a key US ally and a member of the 'five-eyes' community, is poised to play an increasingly substantive role in supporting US space security needs. The establishment of the US Space Force by the Trump Administration is unlikely to be reversed by the incoming Biden Administration, so Australia needs to engage with the US and other partners in a manner that strengthens resilient space capability in the face of a growing challenge from a rising China and an unpredictable Russia.
The growth of adversary counterspace capabilities continues as Beijing and Moscow work determinedly to develop a full suite of ground-based, direct-ascent and co-orbital 'ASAT' technologies that could threaten US and allied space support.  The 2020 Force Structure Plan made very clear that the ADF must maintain the ability to achieve and maintain space control, stating that '…Defence will need capabilities that directly contribute to war fighting outcomes in the space domain using terrestrial and/or space-based systems. The Government's plans include the development of options to enhance ADF space control through capabilities to counter emerging space threats…'.
Just what these space control capabilities will consist of must be an issue for debate in Australia's defence and national security community. Space Domain Awareness is certainly important but understanding what is happening in orbit in a timely manner is only part of the solution. Space resilience through projects such as the DSTO 'STaRshot' program could imply an emphasis on 'the small and many' approach of augmented and disaggregated space capabilities across many small satellites. That lends itself very well to the direction being taken by Australia's commercial space sector. But resilience also demands an ability to rapidly reconstitute lost capability, which requires sovereign launch. Going forward in coming years, Australia needs to be ready to consider how best to rapidly produce small satellites and launch them on a timely manner. Achieving that ability to mark a new space power that has matured rapidly, and is ready to move on to the next phase of national space development. The Australian Space Agency's support for NASA's Project Artemis, to return to the Moon and go on to Mars, is just one path forward that is now opening for Australia in space.