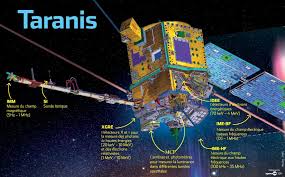 Paris, 8 November 2020. – The French weather research satellite Taranis is set to launch on a Vega rocket from French Guiana in the night from 16 to 17 November, the French national research center CNRS announced.
Taranis is to study the bursts of X- and gamma rays that come from storm light flashes and their impact on the upper atmosphere, on extreme weather events, climate and environmental changes, CNRS said.
The mission is a cooperation between CNRS, the French space agency CNES, the atomic energy and alternative energies commission CEA and several French universities.
"Although Taranis is first and foremost a fundamental research satellite, the data it is set to deliver on Earth's thermal and climate mechanisms could serve more operational applications like climatology and weather forecasting," CNRES said.
"In atmospheric chemistry and physics, environmental science, climatology, high-energy astrophysics and many more fields besides, Taranis is set to reveal new insights—and science efforts won't end there, as the mission will undoubtedly pave the way for future investigations."