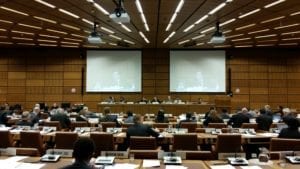 Paris, 2 November 2020. – Amidst international criticism of the U.S. Artemis Accords for Moon and Mars exploration, the European Union (EU) and the member states of the European Space Agency (ESA) are entering into discussions with the U.S. about the legal aspects of cooperation in space exploration, Kai-Uwe Schrogl, a negotiator for participating European countries said.
"We will negotiate a new agreement with the U.S. which is tailor-made for our participation in Artemis/Gateway. The Artemis Accords may be considered in this process as an input," Schrogl said in an interview with SpaceWatch.Global.
"We have to understand what the US is proposing," he said. "The Artemis Accords are, according to the many communications we see, a non-binding policy document" and "a proposal for the multilateral debate of governance. We must not overrate it."
"It will be crucial to find common ground on the governance for the exploration of the Moon and other celestial bodies based on international law," Schrogl said. "Neither ESA nor the EU nor any European State is pressed to formally join and sign the Artemis Accords."
Schrogl is Vice Chair of the European Coordination Committee for the ISS Intergovernmental Agreement (IGA-CC) and was the Chair of the UNCOPUOS Legal Subcommittee from 2014 to 2016.
"Concretely, we will have to discuss with the US the issues of non-appropriation and freedom of use, which might be affected by specific provisions in the text," Schrogl said.
The Artemis program is a U.S. government-funded human spaceflight program that has the goal of returning humans to the Moon. Eight nations, including the U.S. and three European countries, signed up as Artemis Accords founding members mid-October.
ESA and NASA signed agreements end of October to collaborate on the Artemis Gateway, a planned outpost orbiting the Moon that supports the human return to the lunar surface.