by Blaine Curcio and Jean Deville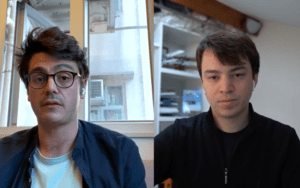 As part of the partnership between SpaceWatch.Global and Orbital Gateway Consulting we have been granted permission to publish selected articles and texts. We are pleased to present "Dongfang China Aerospace News Roundup 26 Oct – 1 Nov 2020".
A small note on the timing of our weekly update: we will aim to publish the weekly update every week by Monday afternoon APAC time, Monday morning EMEA time, Monday very early morning Americas time, however given our recording on Sundays, there will be some weeks where we cannot publish until Tuesday. With that said, welcome to the show!
Hello and welcome to another episode of the Dongfang Hour China Aero/Space News Roundup! This week, we bring you updates on China's Earth Observation sector, discussions on satellite 5G/6G and IoT, but first, part 2 of our summary of the 6th annual China Commercial Aerospace Forum, held in Wuhan 2 weeks ago. If you missed Part 1, check it out here, it is chock full of analysis on CASIC's assorted commercial space plans.
6th China Commercial Aerospace Forum Summary (part 2/2): non-CASIC companies:
While the main spotlight of CCAF was given CASIC companies, a lot of non-CASIC, often private space startups were given the opportunity to discuss their latest advancements. Of interest were some updates on launch, as well as satellite EO data analytics companies.
iSpace: One of the leading private launch companies in China, iSpace was founded in 2015 and has since completed one orbital launch. At the CCAF, company VP Huo Jia discussed their plans for Hyperbola-2, as well as post-Hyperbola-2 projects:

Hyperbola-2: 100 km hopping experiments to test the landing/engine throttling/control capabilities by end of 2020; and then full orbital test of Hyperbola-2 if hopping tests are conclusive.
Hyperbola-3: a medium lift rocket, which can be turned to heavy lift with 2 or 4 side boosters. Development of the Jiaodian-2 heavy thrust methalox engine (100 tons thrust).
Other: nice infographic of rocket family. Cool animation of what Hyperbola-2 landing would look like.
We note that iSpace is, similarly to Landspace, raising their ambitions towards the Hyperbola-2 and Hyperbola-3, as opposed to the Hyperbola-1. This is likely an indication of iSpace not wanting to compete directly with Expace.

iSpace's Huo Jia Discussing the Company's Development Plan. Credit: screen capture from original

Zhongke Aerospace (aka CAS Space): is a CAS launch subsidiary, discussed in more detail during our News Roundup from 12-18 October. The discussion was very technical, covering topics related to launch vehicle control, but also gave some interesting indications of their ZK rocket family timeline: this includes first launch of ZK-1 in September 2021. The payload will be a space science satellite built by CAS.

EO companies with an increasing vertical approach to the industry: Several EO companies have seen traction in recent years, and some of them spoke at the CCAF. Companies include:

PIESat (data analytics, branching out also to EO acquisition with drones as well as SAR satellites)
Zhuhai Orbita (Zhuhai-1 constellation but with downstream analytics services)
Qiansheng Exploration (EO + narrowband constellation, with downstream analytics services).
Aerospace Titan (a CASIC company), doing EO analytics.

The above companies occupy multiple places in the value chain–for example, PIESat primarily focuses on data analytics, but is now vertically integrating towards having their own drones/SAR satellites. On the other end of the spectrum, Charming Globe began as a satellite manufacturer, before integrating into EO satellite operator and eventually service provider.
Related to EO, pretty good article published this week by Satellite & Network (卫星与网络) about investment in the EO sector. It mentions that the 'midstream' services in EO are most popular for private investment, partly because compared to the other two main types of space applications (comms and satnav), EO is "more open to commercial enterprise and with stronger commercial flexibility".

Currently, downstream value chain is developing across 3 types of high resolution, predominantly using Gaofen data. The article notes that the cost of data is low, which enables companies to buy a lot of it–3 types of resolution are:

Time resolution
Spectral resolution
Spatial resolution

Article also mentions that in China, some of the pain points include customers who do not have a high level of awareness of EO products/services, and that small market has led to small numbers of satellites being launched which has led to high cost.
The article notes that from an investment perspective, EO is benefitting from a dual boost of government liberalization and commercialization. It notes two types of business opportunities:

Companies focused on building, launching, and operating EO satellites, and then selling big data products generated by the satellites.
Companies buying data from external sources, incl. Satellites, and providing a "data + platform + application" service

The article discusses the fact that upstream will likely develop before downstream. They see two main ways of having a sustainable business:

Have unique upstream technology that you control (manufacturing), and unique data, and use it to diversify into a variety of downstream markets.
Look for companies with application technology in several broad fields
Non-CCAF news of the Week
Yaogan launch: a group of 3x Yaogan satellites were launched from Xichang earlier this week. Yaogan is one of China's largest EO programs, with the satellites believed to be focused on military applications. An excellent summary of Yaogan was written ~3 years ago, and updated ~1 year ago, available here: https://satelliteobservation.net/2019/11/04/some-news-on-the-yaogan-30-constellation/

Piggy backing the Yaogan launch was the Tianqi-6 satellite of the Guodian Gaoke IoT constellation. Tianqi constellation to have 38 satellites and to be completed before the end of 2021. 6 satellites in orbit now. Focused on IoT, but also AIS and ADSB (according to their website). http://www.xinhuanet.com/tech/2020-09/29/c_1126557898.htm
Conferences
Photo courtesy of LAN Tianyi

China Satellite Conference: The China Satellite Conference took place in Beijing last week. When considering the global pandemic, it is perhaps astounding that the conference was standing room only (photo at right)

While China Satellite is not generally a conference with a lot of headline news, this year there were some interesting takeaways.  Of note was the sub-forum on Satellite 5G and 6G. This included CETC and several universities. Interestingly, the University of Electronic Science and Technology of China (中国电子科技大学) in Chengdu was one of the speakers. CETC has a major subsidiary in Chengdu focused on satellite ground terminals (Tian'ao / 天奥). Seems to be a major push by CETC in the Southwest towards developing the ecosystem necessary to incorporate satellite into ground networks.
China Industrial IoT + 5G Forum Wuhan: at the forum, MIIT discussed the idea of industrial IoT + 5G. Three main areas of emphasis as discussed by Ms Han Xia, Director of Information and Communication Administration Bureau of MIIT:

Strengthen high-level design/planning
Support industrial development
Strengthen demonstration and guidance

Separately, Ms. Han mentioned several challenges faced by rollout of Industrial IoT

Uneven levels of digitization among enterprises.
Insufficient industrial support capacity for things like gateways, terminals, etc.
Integrated applications still need to be deepened/improved

Three main ideas moving forward:

Consolidate network foundation
Improve industrial ecosystem
Improve integrated application

A related article mentioned that in China, there have been more than 800 "Industrial IoT + 5G" projects commenced thus far, with a total investment of RMB 3.4 billion.
This has been another episode of the Dongfang Hour China Aero/Space News Roundup. If you've made it this far, we thank you for your kind attention, and look forward to seeing you next time! Until then, don't forget to follow us on YouTube, Twitter, or LinkedIn, or your local podcast source.
---
Follow DongFang Hour on Twitter @DongFangHour , Youtube or on https://dongfanghour.com
Blaine Curcio has spent the past 10 years at the intersection of China and the space sector. Blaine has spent most of the past decade in China, including Hong Kong, Shenzhen, and Beijing, working as a consultant and analyst covering the space/satcom sector for companies including Euroconsult and Orbital Gateway Consulting. When not talking about China space, Blaine can be found reading about economics/finance, exploring cities, and taking photos.
Jean Deville  is a graduate from ISAE, where he studied aerospace engineering and specialized in fluid dynamics. A long-time aerospace enthusiast and China watcher, Jean was previously based in Toulouse and Shenzhen, and is currently working in the aviation industry between Paris and Shanghai. He also writes on a regular basis in the China Aerospace Blog. Hobbies include hiking, astrophotography, plane spotting, as well as a soft spot for Hakka food and (some) Ningxia wines.