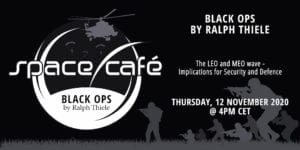 Join SpaceWatch.Global for an interesting and informative new format: Space Café "Black Ops by Ralph Thiele" on 12 November 2020 at 4:00 pm CET.
Colonel (Ret`d) Ralph Thiele, Chairman of the Berlin based Political-Military Society, President of EuroDéfense-Germany, and Managing Director of StratByrd Consulting, Germany will discuss with his guests in this session:
The LEO & MEO wave – Implication for Security & Defence
Discussing the impact and the use of LEO & MEO satellites to operations and information sharing.
His guests:
The audience will have an opportunity to ask questions
SpaceWatch.Global is a Switzerland-based digital magazine and portal for those interested in space and the far reaching impact of the space sector.
This Space Café "Black Ops by Ralph Thiele" will be conducted in English.

Reserve your place today.