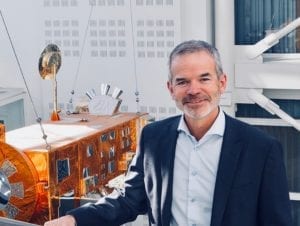 Paris, 12 October 2020. – The Norwegian government has endorsed the country's budget for the European Space Agency (ESA) as well as for continued participation in the EU space programs, Norway's Space Agency said.
"The new national budget for 2021 expands Norway's participation in ESA's and EU's space programs as well as the allocations for the national utilization of these", the Norwegian Space Agency said.
"In the Ministerial Conference in 2019, we increased our part for the ESA Copernicus development, and more than doubled our contribution to the exploration programs and the International Space Station (ISS). With this budget, the Government also includes Govsatcom and SSA (space safety programs) in Norway´s EU space program participation, which already includes both Galileo and Copernicus. This increases our space budgets substantially," Christian Hauglie-Hanssen, Director General of the Norwegian Space Agency, said. "And it puts Norway in a good position to move forward."
The recalibrated budget reflects ESA's priorities, focusing on Earth Observation, space tracking and exploration programs.
The ESA has already started the technology development necessary for the Space Safety Awareness (SSA) program, the agency said. Its elements Space Surveillance and Tracking (SST) and Space Traffic Management (STM), concerning the monitoring and control of traffic and objects in orbit, are of particular interest for both the EU and Norway.
Looking at future access to EU programs, in particular Galileo, Hauglie-Hanssen said: "There are important EU security issues tied to these programs. What we have to avoid is that countries like Norway, that have EU-agreements in place since years, are disadvantaged with regard to participation in these programs."
Hauglie-Hanssen responded to comments from Kai-Uwe Schrogl, seconded from ESA to support the German EU Presidency, in an interview published on SpaceWatch.Global today. Find the interview here.