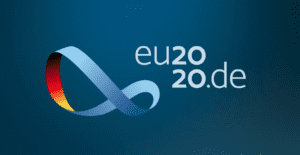 On 1 July 2020, Germany has taken its term in the EU Presidency. Space and space-related initiatives were on the agenda in the preparation. Now, halfway through the term, SpaceWatch.Global Editor-in-Chief Markus Payer had the opportunity to talk with Prof. Dr. Kai-Uwe Schrogl who is seconded from the European Space Agency (ESA) to the German Federal Ministry for Economic Affairs and Energy in Berlin to support the German Presidency of the Council of the European Union.
Markus Payer: Thank you, Prof. Schrogl, for finding the time to talk to SpaceWatch.Global. We are halfway through the German EU Presidency. What space-related topics are on your agenda now?
Kai-Uwe Schrogl: We are actually at a crucial moment, because we are at the verge of finding compromises in a number of fields and have good prospects to finalize the Presidency with a set of decisions which will be relevant for the next years, maybe even the next decade. Our Presidency was, of course, driven by the Covid-19 crisis, but also by the Brexit and overarching policy issues like the Green Deal and the digital transition.
What are the underlying strategic lines?
We built our Presidency on two pillars. One is to finalize legislative acts and solve the governance issues related to space in Europe, in particular the EU space budget, the regulation for the EU space programme and the Financial Partnership Agreement between EU and ESA. This is something which has partly been discussed already for a number of years and the Presidency acts as moderator. What we are now facing is the final discussion about the Multiannual Financial Framework 2021 to 2027.
Where do these discussions go? Which envelope are you pushing with which focus areas?
The European Council has set the budget for the space program at 13,202 billion Euros in July, at the level of 2018, with a distribution between satellite navigation (GNSS) at 8 billion Euros, Copernicus at 4,81 billion Euros and the remainder for Space Surveillance and Tracking (SST) and Govsatcom. The European Parliament is currently debating the budget; initiatives have already been launched by Members of Parliament to raise the budget.
Did you have the tools necessary to support the space sector in the Corona pandemic?
A few weeks and months into the pandemic it became clear that the space sector suffered but was considerably better off than other sectors. We were quick in finding support mechanisms, and ESA was fast in setting up concrete activities, to advance payments, for example, to change timelines, and to better tune program schedules. This was a model for other programs on European and national levels and helped us to safeguard not only the big ones, but also the small and medium sized enterprises.
Are start-ups not suffering?
It's true, I'm afraid that the startups will be hit hard because they typically do not have so much resources to survive and to accelerate. We try to be specifically attentive to that, on European and national level. But I think we have managed well, so far. It will be crucial that the financial markets do not neglect space in the coming years during a – let's hope – Covid-19 recovery. For that purpose, we have launched, in our Presidency, the initiative "Establishing key principles for the global space economy", in order to raise the potential benefits of the Unidroit Space Protocol for new market entrants.
It's certain that the industry will not survive through subsidies or loans only but much more through publicly funded projects. What kind of projects do you have in mind? New launch sites? Nano- and small-sats? Moon and Mars missions and robotics?
We have to find the right balance. We have dedicated a record sum of public funding for space projects at ESA's Council at Ministerial level last year. This covers the whole spectrum of space activities. The next EU budget foresees a lot of money spent on Galileo, Copernicus and the new two flagships, the European Space Surveillance and Tracking (EUSST) and Govsatcom, the segment for governmental civil and military satellite communication.
A lot of money, however, less than expected…
The budget has been growing considerably over the past ten years. It is below the previously expected amount, that's true, and in particular the funding foreseen for Copernicus is not sufficient. This means that any additional budget, which could be raised – maybe from the European Recovery Plan – should not immediately go into new projects but first bring Copernicus to sufficient levels.
What about the so-called New Space?
This is a question of balance. What our Presidency has in mind here is a shift in perspective. The state or the government might, in specific areas, not fund the development or manufacturing, like we do today, but act as an anchor customer. This is completely different from pouring money into the industry and then doing the micromanagement on the technology, the system development and the exploitation. It is a rather new approach for Europe. It could be applied in the field of micro-launchers, for example, but also further downstream, in satellite data and services, or upstream, in space debris mitigation  and removal missions.
Do you have an agreement on this new approach on the European level?
This is happening in ESA and on the national level, in Germany for example, for the moment. Here we set up a competition between a number of smaller startups which intend to develop micro-launchers.  That model might be transferred to the European level when it comes to what people call Ariane Next or Ariane 7, for example. The German government intends to bring this into the dialogue. Currently, we have to make sure that Ariane 6 is flying and working. But when it comes to the question what's next, we want to put all options on the table. And one important option is this completely new approach.
Something very important will happen to the EU during your Presidency: Brexit. How are is Europe's space sector dealing with this?
Brexit means Brexit and we are awaiting the overarching agreement. And only then we can see how things evolve. The UK remains a member state in ESA, a strong member with growing budgets and ambitions. But there is another, less obvious aspect. We have ESA member states which are not members of the EU, Norway and Switzerland. The German Presidency, in its capacity as a moderator, tries to take care that Brexit is not detrimental to these ESA Member States who are both long-standing partners of the EU.
It seems that some people in London might wish the UK found its way back into Galileo. What's your view?
This remains to be seen. The UK can formulate its expectations and then it will be decided by the EU Member States how to respond to such requests.
Let's talk about the second pillar of your Presidency that you mentioned in the beginning. What is it about?
The second pillar is our initiative to establish key principles for the global space economy. We think that this area has not been covered enough yet.
You're really going for the big picture…
Yes. The starting point for us is that we have a global space market of currently 360 billion U.S. dollars, and the projections are that we will have a 1 trillion dollar market in 2030. We will see where we will be landing due to Covid-19, but even if it's 'only' 600 billion dollars, it's huge. The question is whether this is a closed system. We don't think so. But we do not have a clear understanding of the real market size we can reach. We haven't defined from a European perspective what we would really like to achieve in this market.
We see a lot of entrepreneurs with phantastic ideas…
Of course, single companies have superb ideas, and they know where to go and what to do. But when we shape a space policy, we have to define and redefine our relationship to the commercial market as such. We have to discuss what is relevant when it comes to the global space economy, what is relevant in view of the public European interest and the European commercial industrial interests.
What did you find out so far? What's relevant?
We singled out four areas. The first is the marketplace as such, and its rules. Issues like reciprocity in market access and opening markets. The second is space traffic management, STM. This relates to all the issues which are around behavior in outer space. When you have a space traffic management system set by one single state, you are dependent on this setup, and the commercial effects will simply go to that state. This also relates to questions like the freedom to use outer space, or what to do with space debris. The third element is financing. Do we have the right mechanisms and tools in Europe for all players in the sector? And the fourth element is cyber security and Intellectual Property Rights.
Four big questions. Do you have the answers?
We are carving out these four elements. We cannot decide anything at this point, but we ask ourselves, what is the relevance of our approach with regards to these different issues under one common denominator? Who are the prime actors, what should we do and who should do what? We want to initiate a debate because we are only at the beginning of entering totally different economic and commercial dimensions. It will take years to come up with concrete positions and solutions. But we thought that our Presidency shall be the one to kick that off.
Are you afraid that others put their sticks in the ground – commercially and legally – before Europe comes to grips with these fundamental questions?
It already happens. Look at the U.S. Space Policy Directive No. 3 on space traffic management.  This is the first comprehensive national approach to the topic. But space traffic management will make sense only when it's global, international. And in absence of other concepts and a good understanding of what we want, we will simply adopt what the U.S. has developed. It might sound bizarre, but our companies might have to get a license from the U.S. to operate in space on the space traffic management system. That's unacceptable. We have to come up with our own position, we have to sit together with our close and traditional partner, the United States, but also with the others, in a multilateral effort, to set out a global space traffic management system, maybe in 10 or 15 or 20 years. Only then it will also meet our concerns and our interests.
Currently, it rather looks like a "first come, first serve" mentality prevails…
We have seen where it leads, the "first come, first serve" mentality, in the field of frequency management, and it needed some international negotiations in the 1970s and 80s to overcome it and bring it back to the basic principles of the global commons which are not owned by anybody. I have the feeling that people who read the Outer Space Treaty are so happy about article one – which outlines the freedom of use of outer space – that they forget reading the rest. But you will find that there are also crucial points like province, or common heritage of mankind, the benefits of everybody, non-appropriation, international cooperation, state liability, responsibility and all these things. All of them are, to some extent, limiting the freedom of use. We have to strike a balance.
Do you see the new mega-constellations that populate space right now striking that balance?
It's more than doubtful. But as long as the states which are party to the Outer Space Treaty do not define what or where to limit the freedom of use – as they did with debris mitigation – and how we look at operational systems, it can happen that whole orbital planes are crammed with satellites. They would endanger those who have to go through these planes to higher orbits and, on top, occupy and nearly monopolize large parts of the frequency spectrum.
Does Europe have a voice in the concert or cacophony of the global superpowers?
We are also a big power. Just look at Copernicus, look at Galileo, look at our contributions to other fields, whenever we have capacities of our own. We are part of those who have a say in that. In addition to this, Europe and its member states have been reluctant to be, let's say, the bullies, internationally and diplomatically. This helped us to be a moderator on the international scene. Of course, the question then is how we shape our initiatives in the institutions and committees. The European Union has done that with the Code of Conduct and now with the 3SOS space sustainability initiative. And here, I think we have presented something which you would not expect from the U.S. or Russia or China. It is  is building on the traditional European diplomatic and international relations, using the soft power, stressing the rule of law in the respective field. Our German Presidency initiative to establish key principles for the global space economy is not based on an ambition to become the next superpower in outer space and elbow away the others. But to find common ground and evolve multilaterally and explore how the system in outer space and the governance can work, also for the benefit of smaller and developing countries. And not simply for the benefit of "first come, first serve" and "the winner takes it all".
Are you putting these questions on the Heads of State meeting agenda?
It's a matter of maturity. As long as we do not know exactly what the desired outcome is, it will not be fruitful. We first have come up with our own positions and a consolidated approach. Let me give one example. We are now again divided by the United States in the field of Moon exploration. The U.S. is approaching, one by one, single European states with the Artemis accords. These accords are interesting and useful, but also unacceptable, in some respects, in particular when it comes to private property rights. The diplomatic issue is that the U.S. was able to separate and split European states when some of them are happy to strike their bilateral deal without even asking the others. It's a bit of a reality check for a joint European space diplomacy. We have to stand together, find our positions, and then react when it comes to requests for cooperation or also confrontations. This is something we wanted to kick off, as a kind of policy-development exercise.
When is the next consultation where you want to move the needle?
We have a EU-ESA Space Council on 20th November 2020, where a number of these elements will be contained in the conclusions. But it is above all a process, and it will not stop there. We have prepared the elements and we are confident that this is now settling down in order to be worked up to higher and top levels. We want to stimulate the thinking, first to think European and then on a national basis. Europe has a voice. But we have to stand united.
Prof. Dr. Kai-Uwe Schrogl is currently seconded from the European Space Agency ESA to the German Federal Ministry for Economic Affairs and Energy in Berlin to support the preparation of the German Presidency of the Council of the European Union in the second half of 2020. Until 2019, he was the Chief Strategy Officer of ESA (Headquarters in Paris, France). From 2007 to 2011, he was the Director of the European Space Policy Institute (ESPI) in Vienna, Austria. Prior to this, he was the Head of the Corporate Development and External Relations Department in the German Aerospace Center (DLR) in Cologne, Germany. He worked previously with the German Ministry for Post and Telecommunications and the German Space Agency (DARA) in Bonn, Germany. Kai-Uwe Schrogl is the President of the International Institute of Space Law, the global non-governmental association of space lawyers from almost 50 countries. From 2014 to 2016 he served as the Chair of the UNCOPUOS Legal Subcommittee.
SpaceWatch.Global thanks Kai-Uwe Schrogl for the interview.