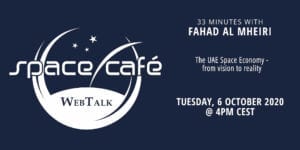 Join SpaceWatch.Global for an interesting and informative Space Café WebTalk featuring Fahad Al Mheiri, Acting Executive Director – Space Sector United Arab Emirates Space Agency (UAESA) in the United Arab Emirates.  This event will take place on 6 October 2020 at 4:00 pm CEST.
Fahad Al Mheiri will discuss recent developments and updates in the UAE space sector and the UAE Space Agency.
He will talk about UAE Space Economy and how it is driven by policy, strategy, the Investment Promotion Plan, GSIA and the impact of the current situation. He will highlight international collaboration and capability development, the key pillars for economic growth and develop the industry. Fahad will explain the new Arab Space Pioneers Programme initiative.
This Space Café WebTalk will be hosted by Torsten Kriening, publisher of SpaceWatch.Global. The audience will have an opportunity to ask questions in dialogue with Fahad Al Mheiri.
This Space Café WebTalk will be conducted in English. Reserve your place today.