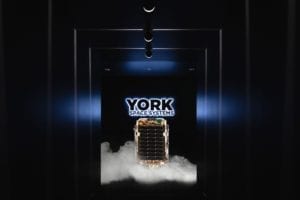 York Space Systems, an aerospace company specializing in complete space segment customer solutions and the manufacturer of standardized spacecraft platforms, announced that the company has been chosen as a strategic partner & subcontractor by LatConnect 60, who is currently developing a small satellite constellation that will provide greater access and control to critical Earth observation data required by the Australian government and a wide range of commercial clients across the world. York Space Systems will manufacture its unique spacecraft platform for the constellation as well as provide its full mission operations and deployment capabilities at an unprecedented cost and delivery time.
LatConnect 60's initial constellation of three satellites will carry multiple payloads, with each satellite capable of both RF Signal Intelligence and High Resolution Multispectral Imaging. The first satellite is scheduled for launch in June 2021. LatConnect 60 is working to deliver AI capabilities onboard its satellites, where each satellite is able to autonomously geolocate and process RF signals identified in order to trigger its imaging payload and any other secondary payloads to conduct data collection over an Area of Interest. Collected data is fused and delivered to end users in an Activity Intelligence Report.
"We strongly believe in LatConnect 60's mission, especially as it serves to help national security surveillance efforts by the Australian government," said Dirk Wallinger, CEO of York Space Systems. "We are eager to work with their team on this constellation build out to not only further highlight our delivery times and competitive price points but to also be a part of the latest innovation in space. We look forward to seeing the long term impact of our work together."
York Space Systems' spacecraft platform is designed to improve affordability and ease of access to space for next generation space companies around the world. The platform itself can support a wide range of missions, including Earth observation, the key focus of the LatConnect 60 constellation. Pricing and fast delivery of satellites is an attractive differentiator for York and is a primary factor in gaining LatConnect 60's business.
"In addition to York's fast delivery time which is well under nine months to orbit and at an attractive price point, we also found their design methodology, delivery and mission services plan to be well defined," said LatConnect 60 CEO Venkat Pillay. "This partnership will enable us to provide a truly responsive space capability at affordable service levels to our clients in Australia and Asia Pacific."
accessible manner. It has developed significant patented IP in this domain and is working with leading Australian research & development institutions to deploy its innovative EO analytics capabilities both on-orbit and in the field. For more information, visit https://latconnect60.com