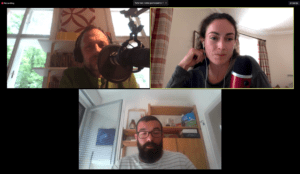 SpaceWatch.Global is pleased to present the third episode in our new podcast series, The Space Cafe Podcast.
Episode 003 features special guest Daniel Porras, Space Security Fellow at UNIDIR – the United Nations Institute of Disarmament Research in Geneva talking about indicators of an arms race in space, Columbus, space debris and the Indian ASAT test.
The Space Cafe Podcast brings our signature brand of engaging and relevant content from across the global space economy to you via an exciting new format. Together with award winning Executive Producer Markus Mooslechner (Terra Mater Factual Studios), our fortnightly podcast features co-host Anna Hazlett (SpaceWatch.Global Middle East & Asia Representative).
Each episode will include a review of the most important topics included in SpaceWatch.Global's bi-weekly newsletter, as well as guest appearances and deep commentary from expert panelists from across the space sector.
Tune in here: