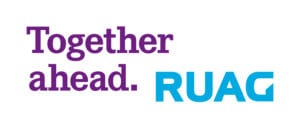 Dr. Peter Guggenbach, the long-standing Head of RUAG Space, has decided to leave RUAG and take up a new professional challenge. Luis De Léon Chardel will assume responsibility on an interim basis for the Space segment as of June.
"After eleven successful years with RUAG, I have decided that it is time to move on to new horizons and take on a new challenge outside the company," Peter Guggenbach explained in a statement published on 19 May 2020. Guggenbach headed the space division for more than a decade, making it the number one supplier of space products in Europe with 12 sites in six countries. CEO a.i. Urs Kiener says: "On behalf of the entire Executive Committee and the Board of Directors, I would like to thank Peter Guggenbach sincerely for his commitment and passion for our Space business. Under his leadership, RUAG has become the largest independent space supplier in Europe. Peter Guggenbach has built up the US business with its own production site, which after around five years already accounts for a third of Space's sales. We wish Peter Guggenbach all the best in his professional and private life and continued success."
Luis De León Chardel is taking over the management of RUAG Space on an interim basis. He is currently Senior Vice President Operations and Deputy Head of RUAG Space. Since October 2017, the Spaniard has been responsible for managing and improving RUAG's global operations internationally. Luis De Léon Chardel has more than 20 years of international experience in leading positions and has a proven track record of transformational change in various industries. Urs Kiener: "Luis de Léon Chardel knows RUAG Space very well and has the experience to guide the leading supplier to the space industry stably through this coronavirus phase".
Strategic alignment remains unchanged
RUAG International is adhering to the strategic orientation of the Space segment. By further strengthening its US business, RUAG Space aims to become the world's leading independent supplier to the space industry. Urs Kiener says: "Thanks to a far-sighted strategy, we are ideally positioned to support upcoming missions such as Copernicus and Galileo with state-of-the-art technology and to enable forward-looking solutions from space with our products."
RUAG Space is one of the leading suppliers of products for the space industry in Europe and the USA. With around 1,300 employees in six countries, RUAG Space manufactures electronic and mechanical products for satellites and launchers for customers such as ESA, NASA, Boeing, Lockheed Martin, Airbus and Thales.