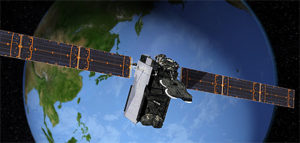 GuarantCo, with funding from the Private Infrastructure Development Group (PIDG) Technical Assistance, is providing a US$500,000 grant to support Kacific Broadband Satellites Group (Kacific) efforts to respond to the COVID-19 pandemic by distributing satellite communication systems. These systems will allow free connections of up to 1,000 rural health posts and clinics across Asia Pacific.
A further US$109,000 PIDG TA grant was provided to Acorn Holdings Limited (Acorn) which will allow them to continue operations on three student accommodation construction sites in Nairobi, complying with stringent rules and keeping their workforce in employment.
With its new broadband satellite Kacific-1, delivering fast, affordable, and accessible connectivity, financed by GuarantCo and the Asian Development Bank in December 2019, Kacific covers 25 lower income and low middle-income countries across the Asia Pacific region. In these countries, rural medical facilities still rely on phone/SMS as primary mode of communication. An internet connectivity will therefore enable more effective monitoring and communication during the pandemic. A long-lasting impact will be that broadband connectivity will enable these sites to conduct telemedicine more effectively, allowing national health systems to decentralise services more effectively to rural areas. Vanuatu will be the first country to take advantage of the service, with several countries expected to follow.
Following a Government of Kenya directive, mid-March 2020, all universities were ordered to close so Acorn, the first purpose-built student accommodation (PBSA) provider in Kenya, shut all its operating properties. Acorn also closed its three operational construction sites from mid-March to mid-April to implement Ministry of Health guidelines which enabled the company to institute recommended public health measures on hygiene, social distancing, access protocols, screening and medical emergencies. The construction sites have re-opened with a minimum staff at each site but with better access to PPE and sanitising equipment, made possible with the support of the PIDG TA grant. Acorn plans to increase the numbers of workers per site to allow the company to meet the completion deadlines and complete affordable, environmentally friendly student housing and sustain local jobs.
A number of other PIDG Technical Assistance grants for GuarantCo portfolio clients are currently being reviewed and will be communicated through social media in due course.
"The COVID-19 crisis has already had a devastating impact globally and both the immediate response and the recovery will require a huge amount of support and innovation, something that will be particularly pressing in some of the poorest countries in the world where PIDG operates," said Philippe Valahu, CEO of PIDG. "I am delighted that we are able to give support to the projects we invest in so they can carry out vital work locally."
"We are proud that we are able to support our clients Kacific and Acorn, for which we provided partial credit guarantees towards the end of last year, to address the COVID-19 challenges that their local communities are currently facing," said Lasitha Perera, CEO of GuarantCo. "Considering the pressure on dollar financed transactions during the current situation, the local currency credit solutions which we provide will be more important than ever to support the economies in the lowest income countries in Africa and Asia in which we do our transactions with the aim to support the alleviation of poverty."
"Covid-19 has highlighted the importance of fast and responsive healthcare systems that serve everyone – from the country's capital to the smallest village communities. Connectivity is fundamental to effective healthcare service delivery. GuarantCo's grant will allow medical professionals to use software to order and distribute medicines and equipment, record and share patient information in national databases, and engage in counselling from specialists based in urban areas to arrange for emergency treatments. Importantly, GuarantCo's grant will also help clinics at isolated and remote locations treat patients locally and save lives especially for emergency life-and-death case," added Christian Patouraux, Founder and CEO of Kacific Broadband Satellites Group.
And Edward Kirathe, CEO of Acorn Holdings Limited said "As the COVID-19 pandemic continues to affect many businesses globally, we are delighted for the support that GuarantCo and PIDG TA have offered us. This grant will allow us to continue operations at our construction sites, ensuring staff at each site have access to PPE and sanitising equipment. This keeps us in line with our aim of not only creating safe and secure workplaces for our staff and customers, but also creating jobs for our local communities which is extremely vital, now more than ever."