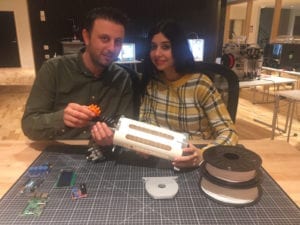 By Anna Hazlett
We have seen different initiatives from maker communities around the world to develop solutions to fight COVID-19. When I received a message from a fellow alumni of United World College – Sami Thawaba, on 3D printed ventilators that can be created by other people (with access to a 3D printer), it immediately grabbed my attention and I reached out to the team to learn more.
Sami and Samah Thawaba are two international students at Linnaeus University in Växjö, Sweden. Along with their studies, they created Saminova which is an established startup at the Videum Innovation Lab. Saminova usually collaborates with clients to create innovative solutions for their production lines in the forms of jigs, attachments and fixtures customized and produced using disruptive technologies such as additive manufacturing (3D printing).
A promising example of industry coming together in these challenging times, on 21 March 2020, Saminova launched an initiative to combine efforts from additive manufacturing experts and the maker community to develop urgent solutions to overcome the coronavirus crisis.
With the global shortage of ventilators, Saminova started this initiative by developing a 3D-printed ventilator that can be recreated by other people who have access to a 3D printer. The team is also supporting Videum Innovation Lab to print face shields for the Swedish government and local authorities, with an output of 70 shields per day.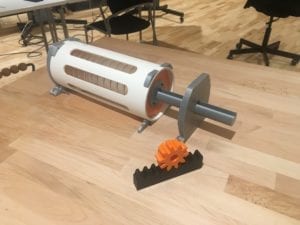 In a recent call with co-founders, Sami and Samah, I wanted to understand better the type of printers used, and how easy it would be for medical professionals to access one, for the purpose of printing 3D ventilators and other medical devices. The 3D printed ventilator is designed for FDM printers, the most available and cheapest on the market. Typically these printers are desktop devices and can be found in schools, universities, product development and design studios.
3D printing, or additive manufacturing in itself, is a process of joining materials layer by layer to make parts based on a 3D model data. The technology offers faster iterative development cycle and design validation with fraction of the cost if compared with traditional methods. Saminova plans to share open source design files that can be accessed and built on.
The ventilator project starts at the first stage as an automated air pump, so that others can be involved in the development process of other necessary systems in the ventilator. Design files will be shortly available on their Facebook page so others can download and start producing, or even further develop them.
When it comes to medical certifications and approvals, Saminova are making use of available FDA approved materials.  With calls from institutions, companies and individuals as far as South America, the Middle East and Europe, Saminova is finishing prototyping the first version of an open source 3D printed ventilator and expects the first fully fledged version to be ready by the end of April, 2020.
Saminova are welcoming efforts and contributions from designers, engineers, makers and tinkerers to build on the design and develop other versions and ideas that can support overcoming this global crisis. Here is a chance to support innovative companies taking action against COVID-19.
Contact Saminova on Facebook: https://www.facebook.com/Saminova-112856577017800/
Contact Saminova by email: [email protected]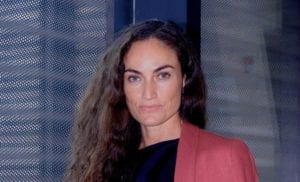 Anna Hazlett is SpaceWatch.Global's Middle East & Asia Representative. Anna is an alumni of United World College (South East Asia, 2005).