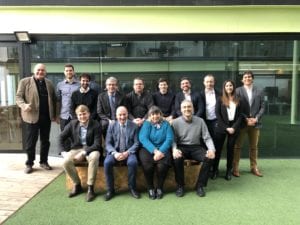 With the rise of the small satellite, industry launch vehicles need new solutions to offer  tailored and cost-effective access to space. The space industry took a big leap forward when SpaceX started recovering the first stage of its rockets, thus decreasing launch prices drastically. Currently, reusability is one of the trending topics in the launcher industry.
The Recovery and Return-to-Base (RRTB) project received more than €3 million (US$3.3 million) from the European Commission's H2020 program to investigate the recovery of the "MESO" micro launcher. Based on the Barcelona start-up Pangea Aerospace's initial research, the project seeks to validate and further develop this new technology. The RRTB consortium, coordinated by Pangea Aerospace, is composed of eight experienced partners in the aerospace sector from six different European countries.
The major objective of the project is to validate key technologies for safe and cost-effective recovery and reuse of the first stage of a small launch vehicle. "This landing system uses already existing and proven technology from the Urban Air Mobility and drone sectors, thus reducing the development and production costs," said Rasmus Bergström, technical coordinator of the project.
"To our view, high rate and high component reusability is essential to decrease launch costs in the micro-launcher industry." added Xavier Llairó from Pangea Aerospace.
The project will:
Validate an innovative landing system, incorporating electric ducted fans. This European recovery system would allow a soft and precise landing without using the main engine, enabling high component reusability.
Investigate the atmospheric re-entry of the first stage of the MESO micro launcher.
Design of durable and cost-effective solutions for reusable structural design and cryogenic tanks.
The technology of Electric Ducted Fans has been largely investigated by other European companies and research centres in the context of Drone and unmanned aerial vehicles (UAVs) development, mainly for VTOL (Vertical Take-off and Landing) aircrafts. However, it was never transferred to a space sector. The experts selecting this project for the European Commission agreed on its technical impact and excellence.
"One of the major challenges of this project will be to verify the feasibility of the return of the first stage of the rocket," said Davide Bonetti, from Deimos Space stated. "Several missions and configurations will be studied in order to choose the most promising one."
The RRTB consortium combines the industrial expertise of Thales Alenia Space, Deimos Space, Heron Engineering, TOSEDA and Pangea Aerospace with the research experience and excellence of the Von Karman Institute, RWTH Aachen and Technische Universität München in order to create a disruptive European recovery technology to reduce the cost of access-to-space. More information about the project can be found here.
This announcement was made on 25 February 2020.