The 2020 European Rounds of the Manfred Lachs Space Law Moot Court will be organised by the European Centre for Space Law (ECSL) in collaboration with the University of Vienna.
The competition will be organised in Vienna, Austria, from the 31 March-3 April 2020, and held concurrently with the Legal Subcommittee of the United Nations Committee on the Peaceful Use of Outer Space (UNCOPUOS).
The regional winners from Europe, Asia-Pacific, Africa, and North America will then compete in the World Finals organised by the International Institute of Space Law (IISL), held in conjunction with the annual International Astronautical Congress in Dubai (UAE) this year.
Find more information on the event and this year's case here.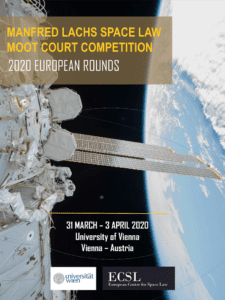 ABOUT THE EUROPEAN CENTRE FOR SPACE LAW (ESCL)
The European Centre for Space Law (ESCL) was established in 1989 under the auspices of the European Space Agency (ESA) and with the support of a number of pioneers in this field.
Current members of the ECSL include professionals working in a wide range of areas within the space sector, lawyers, university professors and students.
Among other things, one of the main objectives of the Centre is to provide a forum for all those wishing to participate in constructive dialogue related to space law and space policy, and to encourage interdisciplinary exchange among members.
ESCL members include professionals working in different areas within the space sector. Citizens of ESA Member States or countries with cooperative agreements with ESA can become members of ECSL upon payment of a small annual fee.
Membership gives the right to participate in ECSL activities, to vote at the General Meeting of Members and to receive certain ECSL publications.