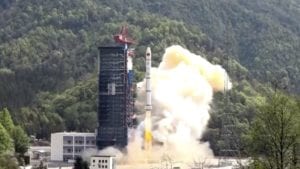 China successfully launched three national security satellites on board a Long March 2C satellite launch vehicle from the Xichang Satellite Launch Centre on 24 March 2020, according to Chinese news media sources.
The Long March 2C launched the sixth group of three Yaogan-30 intelligence, surveillance, and reconnaissance (ISR) satellites from Xichang in China's Sichuan province at 11:43am local time (03:43am Greenwich Mean Time – GMT) on 24 March.
According to state-run China Central Television (CCTV), the Yaogan satellites "will be used for electromagnetic environment detection and related technological tests."
Open source analysts in the West speculate that the Yaogan-30 satellites, also known as Chuang Xin-5 (CX-5) satellites, are in fact signals or electronic intelligence (SIGINT/ELINT) gathering systems. In particular, it is believed that the Yaogan-30 is used to collect and geolocate radio emissions from ships and are part of the Chinese maritime domain awareness mission.
The Yaogan-30 series of satellites are built by the Small Satellite Centre at the China Academy of Science (CAS). The 24 March 2020 launch of the three Yaogan-30 satellites was the sixth batch to be launched, with the first batch of three satellites launched in September 2017. All 18 Yaogan-30 satellites are in low-Earth orbit (LEO).
The mission of the Yaogan-30 appears to be similar to that of Western commercial satellites operated by HawkEye 360 in the United States and Kleos Space headquartered in Luxembourg.
HawkEye 360 plans to launch 15 satellites in LEO while Kleos Space plans to launch a total of 40 satellites in to the same orbit. Both countries will offer customers a commercial radio frequency reconnaissance and geolocation service.