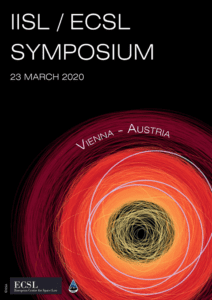 Every year the International Institute of Space Law (IISL) and the European Centre for Space Law (ECSL) organise a Symposium to bring together academic experts and leading practitioners from the fields of space law, policy, and regulation to discuss pressing issues and propose solutions to the international community.
The 2020 Symposium, "Space Law for the Global Space Economy" will take place on 23 of March, which is the first day of the Legal Subcommittee of the United Nations Committee on the Peaceful Use of Outer Space (UNCOPUOS) in Vienna, Austria.
For more information about the Symposium programme and attendance opportunities, please visit the ECSL website.
The European Centre for Space Law was established in 1989 under the auspices of the European Space Agency (ESA) and with the support of pioneers in this field. Its foundation is based on a Charter, last amended in 2009.
Current members of the ECSL include professionals working in a wide range of areas within the space sector, lawyers, university professors and students.
One of the main objectives of the Centre is to provide a forum for all those wishing to participate in constructive dialogue related to space law, and to encourage interdisciplinary exchange among members. The IISL/ECSL event is organized under this framework.