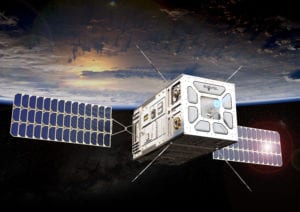 Exotrail, a French company dedicated to providing innovative on-orbit transportation solutions for the small satellite market, announced on 19 February 2020 that they have signed a contract with AAC Clyde Space, Europe's leading nanosatellite solutions specialist. Exotrail will equip them with cutting-edge propulsion solutions for their customers, including global satellite telecommunications leader Eutelsat for its ELO-3 and ELO-4 spacecraft. The French company will provide propulsion systems for the two 6U CubeSats which will be manufactured and delivered to orbit by AAC Clyde Space. The Eutelsat mission is a precursor to a potential constellation called Eutelsat LEO for Objects (ELO). The contract is to be delivered before the end of the year, and both satellites will be launched in 2021.
"We are very much looking forward to working with Exotrail," said Luis Gomes, CEO of AAC Clyde Space. "Their product is a perfect fit for both our needs and our customer's requirements. Their modular ExoMG™ product has a highly compact and flexible form factor with industry leading performance levels, in particular with respect to thrust levels."
David Henri, Co-founder and CEO of Exotrail, added: "AAC Clyde Space is an established specialist in advanced nanosatellite spacecraft missions and provides market-leading New Space solutions. We are delighted to be able to assist them for this mission with our ExoMG™ – nano.  This underlines the relevance of our solutions for optimising global constellations and our expertise in this growing sector".
Exotrail started its propulsion system development with a flight demonstrator project that was designed, built, qualified and delivered in only 10 months. The launch of the flight system demonstrator, initially scheduled to fly in November 2019 on board a PSLV, is now planned in March 2020 (due to launcher delay). And the resulting heritage acquired with this project, along with the expertise and innovation put forward in Exotrail's product development, has allowed the company to secure its first customers.  These customer contracts demonstrate that Exotrail's strategy is paying off and that the company has moved quickly from vision to reality. A vision to not only provide a propulsion system, but a set of software, hardware and services, to change the way satellites are being launched and operated on orbit. This vision is now translating into revenue and success.