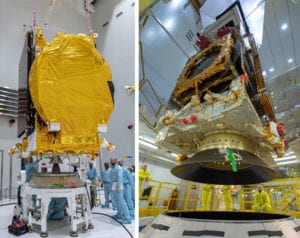 Payload integration is underway for Arianespace's first mission of 2020 – designated Flight VA251 – which will orbit satellites at the service of two long-time partners using an Ariane 5 launch vehicle.
Recent activity at the Spaceport in French Guiana included initial steps in creating the dual-payload configuration, with Eutelsat's KONNECT satellite riding in the upper position. This involved installing the spacecraft atop Ariane 5's SYLDA dispenser system during activity inside the launcher's Final Assembly Building.
KONNECT will now be encapsulated by Ariane 5's protective fairing, completing the payload configuration's upper portion and readying it for positioning over co-passenger GSAT-30 once this spacecraft from the Indian Space Research Organization (ISRO) is installed atop the heavy-lift launcher.
One Launcher, Two Satellites
Following Ariane 5's liftoff from the Spaceport on 16 January 2020, KONNECT will be released into geostationary transfer orbit (GTO) first, followed by the separation of SYLDA – enabling GSAT-30's subsequent deployment to GTO.
KONNECT – which was produced by Thales Alenia Space – is a new-generation high-throughput satellite that will deliver services across Europe and Africa. Featuring all-electric propulsion and configured for operation in Ka-band, it is the first to use Thales Alenia Space's Spacebus NEO platform developed under the Neosat Partnership Project conducted by the European and French space agencies (ESA and CNES).
ISRO's GSAT-30 was built using an I-3K satellite platform, and is to provide high-quality television, telecommunications and broadcasting services. It will have a liftoff mass of some 3,450 kg. and is to ensure continuity of service for India's INSAT 4A, positioned at 83 deg. East longitude.