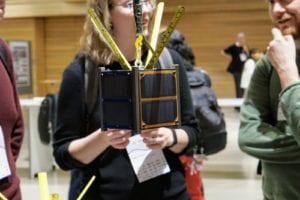 By Valerie Vlasenko
The third edition of the Finnish Satellite Workshop kicked off on 20-22 January 2020 in Espoo. The major event for the space industry and science in Finland saw a gathering of nearly 800 professionals and covered the most important topics for the Nordic space scene. 
"Our initial idea was to improve and strengthen the collaboration between the rapidly evolving space industry sector and space science in the region. We wanted to provide a forum for discussions and ideas sharing. Everything space-related is interesting and everyone space-related is welcome" said Jaan Praks, Professor at Aalto University and the main organizer of Finnish Satellite Workshop. 
The event gathered a large number of participants from various backgrounds and fields. Researchers and students descended on Espoo from major Finnish universities, including Aalto University, University of Helsinki, University of Turku, University of Jyvaskylä, University of Oulu, and more, for a focused programme and networking. Research institutions such as the Finnish Meteorological Institute and VTT presented their latest developments in the field. Private companies were able to showcase their projects in the demo area, including firms involved in the ESA Business Incubator Centre (BIC) from Finland and the Nordics. Finally, politicians and decision-makers from Finland and neighboring countries shared their views and highlighted a number of action-points on space industry development in the region. The majority of the audience was Finnish, but representatives from Estonia, Latvia, Sweden, Denmark as well as Eastern Europe were also present. 
"Eastern Europe is a very interesting region or us. Lots of development and research are coming from there and we are looking for ways to connect it to Scandinavia and the Baltics," commented Praks.
The programme covered a range of topics including small satellite missions, satellite platform development, space science missions and instruments, Earth observation, sustainable utilisation of space, and more. This year the organisers focused specifically on Earth observation, the topic which attracted a number of small startup companies working with space data and offering Earth observation services. Yet the agenda was not exclusively focused on Earth observation and satellite missions, and touched upon more far-reaching concepts. For example, during the second day of the event, the inventor of Electric Solar Wind Sail, Pekka Janhunen, Ph.D., gave a talk on human settlements in low Lunar orbits which lead to an in-depth discussion on the feasibility of different solutions related to the future of humanity in space. 
"The region needs an event focused on space, where research community, business, and public sector can discuss ideas and build trusted relationships. We are committed to organizing the event next year again offering more opportunities for dialog and collaboration," commented Praks on the future plans.
The dates for Finnish Satellite Workshop 2021 are not yet revealed. Find more information and follow the updates on https://spaceworkshop.fi/