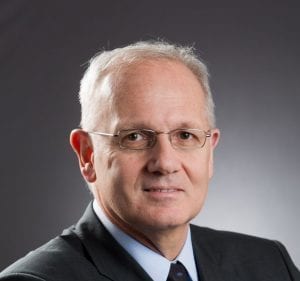 Centre national d'études spatiales (CNES) President Jean-Yves Le Gall presented his New Year wishes to the press at the agency's Head Office in Paris Les Halles on 7 January 2020. He hailed the unstinting efforts of journalists covering space and working to raise its profile and bring the sector's everyday real-world applications to the attention of citizens. The traditional gathering also gave him the opportunity to look ahead to the key events and milestones that await the agency in 2020.
As a government agency, CNES has an active role to play driving France's economic and social development. This commitment was the foundation of the agency's current Objectives and Performance Contract (OPC) with the government for 2016-2020, entitled 'Innovation & Inspiration'. The next OPC will chart the course for the agency's partnership with industry and institutions for the next five years as it seeks to build a future in which space serves us all. To this end, CNES's 2020 budget has been increased by 14% to €2,780 million, which includes France's contribution to ESA of €1,401 million and €705 million for the national space programme. For this budget, €625 million will come from CNES's own resources and €49 million from the government's PIA future investment programme.
CNES plays a pivotal role in the national space industry, which sustains a total of some 20,000 jobs, and is encouraging its international partners to 'think France' and turn to French space manufacturers. The agency is the backbone of Europe's space programme, guaranteeing its independent space launch capability and helping to ready new generations of space systems for European citizens. On the world stage, CNES has become a linchpin of the international diplomatic apparatus. Today, it has three types of partnerships: European partnerships, through the European Space Agency (ESA); historic partnerships with the world's leading space players outside Europe (China, India, Japan, Russia and the United States); and forward-looking partnerships with new space powers (Israel, South Korea, United Arab Emirates, etc.).
In 2019, the Ariane launcher celebrated its 40th anniversary. Deploying new technologies and new ways of working, the partners engaged in this adventure are gearing up to face the challenges that lie ahead. The Guiana Space Centre (CSG), Europe's spaceport, is poised to bring the ELA-4 launch pad into service for Ariane 6, while the future of the launch base is assured through the CSG New Generation programme that got the go-ahead from Europe last November. In the field of future launchers, CNES is working on the Callisto project to develop a recoverable first stage that will be a key component of the THEMIS low-cost reusable launcher demonstrator being pursued in partnership with the German space agency DLR and the Japanese space agency JAXA. Conceived by CNES and developed by ArianeGroup for ESA, the Prometheus engine will power THEMIS. Prometheus will be reusable and ten times cheaper than the current generation of engines, with the first model expected to be finalized this year. In 2019, CNES and ArianeGroup joined forces and combined their expertise to build the future generations of European launchers through the ArianeWorks platform.
Satellites have become a ubiquitous feature of our lives. CNES possesses unique science and engineering expertise to develop new missions. Taranis will be the first space mission conceived to observe the transient luminous events (TLEs) that occur above large storm clouds when lightning strikes. This microsatellite developed 100% by CNES has 15 cutting-edge instruments to analyse these events and will be launched from the CSG this year. CNES also plays a key role implementing the military space strategy designed to assure France's security and independence. Two new military satellites will be ready for launch in 2020: CSO-2, a very-high-resolution reconnaissance satellite, and Syracuse IV, a secure telecommunications satellite.
Besides historic space programmes in the domains of science and defence, space is a key driver of economic, social and environmental development for businesses. New applications are now being opened up by space technologies and solutions. In this context, the Connect by CNES programme is designed to support and federate the space user community in Europe and around the world, chiefly covering sectors that are going to prove crucial to our future, such as the environment, healthcare and mobility. Also serving mobility applications, two new Galileo satellites are set to be launched from the Guiana Space Centre this year and the navigation system—which has already garnered more than one billion users—is expected to reach full operational capability in 2021.
Ever since its inception, CNES has continued to innovate and this ability is a key asset in today's world. As a new year gets underway, the agency is launching Nanolab, an initiative that embraces all of the actions it is pursuing in the field of nanosatellites. The main goals of Nanolab are to raise the profile and federate the efforts of the nanosatellite industry and academia, as well as technical facilities for designing and developing nanosatellites (such as integration rooms, for example). Electric propulsion is also driving a revolution in the space industry, significantly reducing telecommunications satellite mass and cost. This month will see the first all-electric satellite from the Neosat programme (Spacebus NEO) launched by CNES and ESA to support the competitiveness of European industry. The first in the Konnect series of satellites is designed to deliver broadband Internet services. It is also this year that mobile phone operators will be making the transition to the new 5G frequency that will support faster throughput, working with space agencies like CNES.
Earth is under the constant watch of satellites taking its pulse and allowing us to anticipate its likely evolution. The Space Climate Observatory (SCO) was officially launched by President Emmanuel Macron in June 2019 at the Paris Air Show. An agreement was subsequently signed by 25 space agencies and international organizations to bring the observatory into being. This year will be devoted to putting together a global network and kicking off the first pilot projects. In France, the SCO offers a real opportunity to federate research efforts in different disciplines and chart a common course leveraging shared resources.
Lastly, Mars is set to take centre stage in 2020, with many missions departing Earth for the red planet and CNES on board several of them. This summer, a new NASA mission will be sent aloft from Cape Canaveral, Florida, to bring back samples from its surface. The SuperCam instrument on the Mars 2020 rover consists of a camera, a laser, three spectrometers and a microphone. This cutting-edge instrument is an international effort led by CNES, illustrating France's world-renowned prowess in space exploration. Are there traces of life on Mars? To attempt to answer this question, this summer ESA and Russia will be launching ExoMars, a roving laboratory to study the planet's environment and biological conditions. And the Sun hasn't been left out of exploration plans, as in February the European Solar Orbiter probe is poised to embark on its deep-space expedition, approaching to within 40 million kilometres to deliver new insights into the solar wind and its direct impacts on Earth. CNES is supplying the Radio and Plasma Waves instrument (RPW) that will analyse electrons from the Sun—a world first—and working on five of the 10 other scientific instruments on the payload.