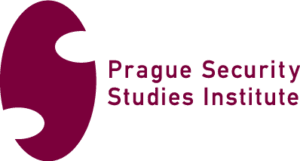 The mission of the Prague Security Studies Institute is to help safeguard and strengthen the individual freedoms and democratic institutions of the countries in Central and Eastern Europe and beyond. PSSI is dedicated to the education and training of new generations of security-minded students and young professionals, including through its programmatic activities and growing academic network in the Czech Republic and abroad. SpaceWatch.Global's Torsten Kriening took the opportunity to speak with Dr. Jana Robinson, Space Security Programme Director at the Prague Security Studies Institute (PSSI), at the ESPI Autumn Conference 2019 in Vienna, to discover more about the organisation's ambitions in space. 
Can you tell us about PSSI and the history of your organisation?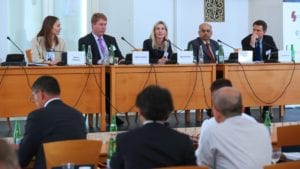 The Prague Security Studies Institute is a public policy, non-governmental organisation that seeks to advance security studies and policy in the region and globally. Our Space Security Programme, established in 2010, is one of our priority areas. We conduct a range of activities, including in-depth studies, roundtables, high-level conferences, as well as academic pursuits.
On the academic side, we have successfully introduced an accredited a course as part of our co-sponsored MA Programme in International Security Studies at the Charles University's Faculty of Social Sciences. Included in the course are guest lectures by senior policy practitioners in the field of space organised by PSSI every semester to broaden the perspectives and knowledge base of the students. This year, PSSI also launched a four-year PhD scholarship in the field of Space Security at Charles University. We believe that this is quite unique not only in the Czech Republic, but also in the whole of Europe.
It is fantastic to give the next generation a chance to have a deep dive into these highly important issues on space safety and security. Can you elaborate a bit more on the work you do in the think tank?
In addition to our Space Security programme, we have quite a strong academic dimension, embodied in our Security Scholars programme. We are also doing cutting-edge work in the economic and financial threat domain, particularly with regard to China and Russia.  We are very active in the region, often conducting various projects under our Transnational Security Programme. Overall, PSSI selects somewhat underdeveloped issues and seeks to illuminate them to a considerable degree for the policy community and other audiences.
Speaking of space safety and security. What are the threats that you see?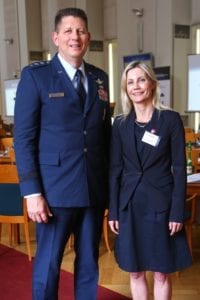 In the last decade, the space environment has become quite complex. There are now over 2,000 satellites in orbit joining a large volume of space debris, small-satellites and mega-constellations. National space programmes are expanding and an increasing number of nations are seeking independent access to space-based information and critical technologies. More and more countries have also come to appreciate the strategic aspects of space and the sizeable advantages that space delivers for terrestrial military operations. Simultaneously, we're witnessing far more interest the in commercial potential of space and innovative technologies. Companies are preparing to go to the Moon, test on-orbit servicing, de-orbit dysfunctional space objects and provide space-based services to terrestrial customers.
Where do you draw a line between safety and security?
We generally classify safety as avoiding accidental situations and security as involving more deliberate actions that require us to protect our interests, which would include the harmful interference or destruction of space assets.  As space systems are inherently dual-use, it is critical to communicate both with our partners, as well as our competitors and potential adversaries about activities that could be perceived as risky or threatening. Identifying intent can be difficult, hence also the emphasis on transparency and confidence-building measures and responsible behaviour.
But who can verify today's objects in space? Do we just believe what we were told by the operators? How do we go about verifying this?  
There is a certain level of situational awareness that we have in space. There are also an increasing number of countries with SSA sharing agreements. There is an understanding that situational awareness needs are growing, beyond detecting, tracking and identifying space objects. Operational knowledge is needed that involves greater awareness of this dynamic orbital environment as well as accurate assessments of what is observed and the attribution of various incidents/events.
We need to be able to see the bigger picture and have the kind of actionable knowledge that enables us to predict and avoid collisions, deter irresponsible actions, and even operate in a degraded space environment. PSSI also advocates inclusion of ground-based economic and financial space activities into this much-needed common operating picture.
Let's take a current example. We recently had a situation where one of the StarLink satellites was on a collision course with another satellite owned by ESA. It was highlighted in the press. Thankfully, the situational was solved, and the issue received some attention, but it also demonstrated the lack of proper procedures in place. How would you assess the situation, if one actor was to refuse to move their asset out of the way?
It's quite amazing that the standard means of communication between space operators is via email. On the one hand, it makes sense as it is quick and efficient. But what if that channel is not available on a particular day when there is a high risk of an impact?  What if you have a non-cooperative operator that feels his asset does not require any safety-related manoeuvres?
Despite the fact that a number of countries have strict regulatory requirements for space operators, compliance is not universal.   Veteran operators all agree that it is urgent to comply with established, and adopt some additional, best practices. We can only speculate why SpaceX acted in the way they did. ESA acted responsibly and pro-actively. Although SpaceX appears not to have violated any regulation or acted illegally,  it, nonetheless, demonstrates that we are not where we need to be in this arena.
Does it mean we need more regulation?
At the international level, we should seek to do more to strengthen the ITU and its rules, regulations and procedures to ensure better oversight of orbital positions, frequency interference, and any abuses in the allocation of orbits and frequencies. We should also consider enforceable penalties for non-compliance or abuse of space regulations and behavioural norms.
What can we expect from PSSI in the next 12 months? What are the main topics you're working on in the space sector?
We are presently focusing on the economic and financial aspects of space security, mainly the downside risks associated with future competition for space partnerships and markets. We've observed that little attention is being paid to this issue from a policy perspective. Specifically, we're concerned that predatory practices by China and Russia in the international space market are challenging applicable rules, norms, and standards. European and allied companies are being subjected to a non-market commercial environment and one-sided Chinese and Russian partnering arrangements with dozens of countries – including sole-source supplier relationships –  that are depriving our companies of important business opportunities and potentially whole markets.
We call this phenomena 'space sector capture', either partial or complete, and it is basically the offer of end-to-end capabilities on subsidised credit terms. That means the offering by these authoritarian space powers of vertically integrated packages, including the design/manufacturing of satellites, launch services/launch insurance, ground segment construction/equipment, provision of operating personnel, the training of local staff, and below-market financial assistance.
In addition, we're also interested in how we can leverage our economic and financial policies to strengthen cross-domain deterrence for space. We're working with decision-makers in government, industry and elsewhere to focus attention on these issues to help advance our and broader commercial competitiveness and strategic goals in the space domain.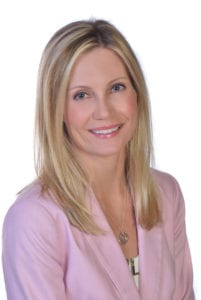 ---
Bio: Dr. Jana Robinson is Space Security Program Director at the Prague Security Studies Institute (PSSI). She previously served as a Space Policy Officer at the European External Action Service (EEAS) in Brussels as well as a Space Security Advisor to the Czech Foreign Ministry. From 2009 to 2013, Ms. Robinson worked at the European Space Policy Institute (ESPI), seconded from the European Space Agency (ESA), leading the Institute's Space Security Research Programme. Ms. Robinson is an elected member of the International Institute of Space Law (IISL) and the International Academy of Astronautics (IAA). She is also a member of the Advisory Board of the George C. Marshall Missile Defense Project of the Center for Strategic and International Studies (CSIS) in Washington, D.C. Ms. Robinson holds a PhD in the field of space security from the Charles University's Faculty of Social Sciences, Institute of Political Studies and received two MA degrees, from George Washington University's Elliott School of International Affairs and Palacky University in Olomouc, respectively. She received scholarships to attend the International Space University's (ISU) 2009 Space Studies Program (SSP09), the 2008 Summer Training Course at the National Taiwan Normal University in Taipei, and a one-year course of study at Shanghai University 1999-2000.
SpaceWatch.Global thanks Dr. Jana Robinson of Prague Security Studies Institute for the interview.