By Viktoria Urban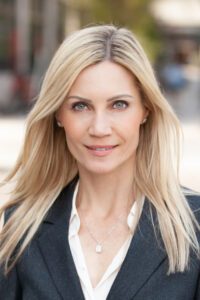 Our Space Cafe WebTalk "33 minutes with Dr. Jana Robinson – Economic and Financial Dimensions of Space Security" took place on Tuesday, 3rd May.
Dr. Jana Robinson became Managing Director of the Prague Security Studies Institute in April 2020. She also serves as PSSI's Space Security Program Director, a post she took in 2015. She previously held the position of Space Policy Officer at the European External Action Service (EEAS) in Brussels as well as Space Security Advisor to the Czech Foreign Ministry.
Dr. Robinson held positions at ESPI, ESA, IISL, IAA, CSIS. She holds a PhD in the field of space security from the Charles University's Faculty of Social Sciences, Institute of Political Studies and received two MA degrees from George Washington University's Elliott School of International Affairs and Palacky University in Olomouc. She is also an ISU alumna.
Dr. Robinson explains that the Prague Security Studies Institute is a nonprofit, non governmental public policy organization celebrating its 20th anniversary this year. Its main mission is to help safeguard and strengthen the freedoms of democratic institutions in Central and Eastern Europe. The institute offers educational programs for graduate students and young professionals, including an annual NATO summer school and cybersecurity academy. The institute's most prominent research involves the emerging risks and threats to the Transatlantic Alliance in the economic and outer space domains. The research itself, however, is not the main focus. The institute seeks to do policy advocacy during conferences and roundtables. It works to engage decision-makers, and also the industry.
The key trends for space-based services, she says, are "more dependency, more commercial, and more diversified." The European Space Policy Institute has indicated that there are currently 82 countries with at least one satellite in orbit. The governments' space sector spending in 2021 globally, was US $92 billion, which means a 50% increase in six years. 
"This dynamic environment also creates opportunities for new international partnerships, networking opportunities within the space industry, and brings pressing security challenges as well."
She claims that the global counterspace dynamic, meaning the capabilities that can be used to disrupt, deny, degrade or destroy space systems, is primarily driven by terrestrial rivalries among space powers. Dr. Robinson says that these authoritarian regimes deploy predatory economic and financial practices to bolster their strategic space power. She uses Russia as an example: the country employs their state-owned enterprises to build seemingly benign commercial space partnerships to achieve outsized strategic influence abroad.
She explains that partnerships should never have a non-transparent approach to bilateral space cooperation, and unfair trade practices designed to create debilitating dependencies. 
"These predatory practices, including large scale subsidized financing, also tend to lead to political extortion, particularly with regard to the shaping of global behavioral norms and standards." 
Moreover, such behavior distorts the space economy and binds recipient countries to Beijing and Moscow, for example. On the other hand, international space partnerships should be based on free markets and democratic principles. Dr. Robinson thinks the keywords to a good partnership are transparency, disclosure, accountability, risk management, good corporate governance, reciprocity, respect for serenity and the rule of law.
When it comes to resilience, she thinks that a lot is being done already. However, she admits that resilience alone does not ensure space security. Even a satellite with the greatest resilience can be disrupted or disabled. Resilience is important in making this harder to achieve.
From 19th to 21st June Dr. Robinson will be hosting the 6th PSSI Space Security Conference which brings together leading space security experts, senior civil and military officials, as well as selected industry representatives from Europe, the United States and Japan. Space domain awareness, sustainable international space cooperation, and cross-domain deterrence will all be discussed during the event. To find out more, visit https://www.spacesecurity.eu. 
To listen to the Space Café WebTalk's insights, you can watch the full program here:
Viktoria Urban, contributing Editor at SpaceWatch.Global: After graduating as a Journalist from Edinburgh Napier University, I am now doing an Astronomy and Planetary Science degree at The Open University (Scotland) which has enhanced my already existing love and enthusiasm for space. I am also a member of and a volunteer for several societies both in Hungary and in the UK and write online content on space for multiple companies as well. I hope my science communication will encourage many to find a job in the space sector, whatever their background and highlight important issues to ensure a sustainable space environment for future generations.