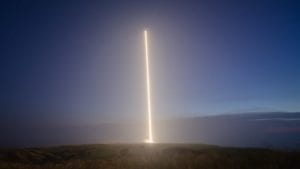 Rocket Lab, a commercial space launch company, successfully completed its 10th launch on 6 December 2019 from its launch complex in New Zealand, placing seven small satellites in orbit as well as returning its Electron booster back to Earth.
As well as being its tenth consecutive successful launch, Rocket Lab's "Running Out Of Fingers" mission also demonstrated the company's ability to reuse its Electron boosters for future launches.
The satellites placed in low-Earth orbit included six PocketQube satellites from Alba Orbital, headquartered in Glasgow, Scotland, and Astro Live Experiences (ALE-1), a controversial Japanese payload that will simulate meteor showers for entertainment purposes.
Ultimately, Rocket Lab intends to reuse all of its Electron boosters, and aims to capture them bu\y helicopter after they have reentered Earth's atmosphere. In a telephone interview with CNBC, Rocket Lab CEO Peter Beck said, "The real challenge in this program has been 'can we get through the wall' and today we punched through the wall and came out the other side in great shape…We knew that we had a chance of getting it through the wall and all the way down to the water but with anything reentry it's hugely difficult to model."
Rocket Lab relies on a technology called an aero thermal decelerator to slow down the Electron booster during its return to Earth, thus allowing its safe recapture by a helicopter. The aero thermal decelerator is controlled by an on-board computer that essentially flips the booster by 180 degrees.
This was carried out successfully in the 10th Rocket Lab mission, and the used Electron booster splashed down into the ocean and disintegrated, as planned.
"We maintained control of the stage and guided it through the narrow corridor with the heat shield and the right orientation, the right angle of attack. And, not only were we able to hold telemetry on it all the way to impact at sea, we had tremendous amount of instrumentation on board that said the stage was very healthy when it impacted the ocean," Beck told CNBC.
The demonstration opens up the ability for Rocket Lab to capture and reuse future Electron boosters. Future demonstrations will see the use of parachutes on returning boosters that will be captured by helicopter. 
As part of its impressive launch cadence, Rocket Lab intends to carry out its eleventh launch mission in the first few weeks of 2020.