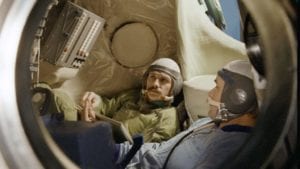 Responding to the question from Hungarian television channel RTL, Minister of Foreign Affairs and Trade, Péter Szijjártó said that the government will spend HUF 10 billion over the next three years to be able to launch a Hungarian astronaut to space in 2024. Szijjártó announced earlier this week at a European Space Agency ministerial conference in Seville that Hungary plans to send an astronaut to space in 2024 in cooperation with Russia.
According to the plans, the launch of the Hungarian astronaut to the International Space Station (ISS) will only be one of the pillars of the Hungarian space strategy. Hungary also aims to send an independent satellite to orbit the Earth. Additionally, in cooperation with Russia, Hungarian scientific and measuring devices will be sent to the ISS and a space weather mission is in a preparatory phase, involving building a micro-satellite fleet.
Some Hungarian media outlets claim that the HUF 10 billion (USD 33 ​​million) spent for training one astronaut and their launch and stay at the ISS seems unrealistically low, as it cost USD 75 million for NASA to send its astronauts to space with the Soyuz spacecraft two years ago.
On Wednesday, Szijjártó said "the space industry is becoming one of the most important industries," adding that
this will be another opportunity for Hungary to develop and push forward.
The country will be "focusing on the training of the second Hungarian astronaut to be sent to the International Space Station — which we consider a realistic plan for 2024 — in cooperation with Russia's Roscosmos."
The last – and only – Hungarian who was in space as a trained astronaut was Bertalan Farkas in 1980. Besides him, Charles Simonyi financed two space visits from his own funds in 2007 and 2009 as a space tourist.