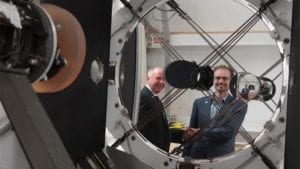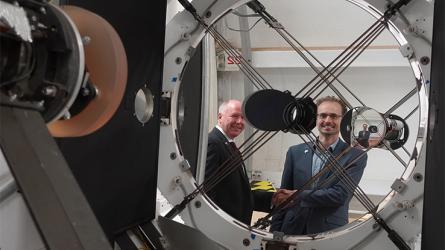 The Australian Space Agency has signed a Statement of Strategic Intent and Cooperation with EOS Space Systems, an Australian company specialising in space tracking systems.
Anthony Murfett, Deputy Head of the Australian Space Agency said that the joint statement aligns with the Australian Civil Space Strategy, which sets out a 10-year plan to transform and grow the space industry. "Space situational awareness and debris monitoring is one of the seven National Civil Space Priorities outlined in the Strategy," said Mr Murfett. "EOS Space Systems are building, operating and developing the infrastructure to track the growing number of objects in space and keep Australians safe, on Earth and in space." "Australia's geographic location in the Southern Hemisphere enables monitoring of parts of space from our unique view into the Solar System."
EOS currently operates a network of space situational awareness sensors at Mt Stromlo in the ACT and Learmonth in WA. This network currently tracks 10,000 space objects per week, and it will look to expand on this capability. Low levels of light and radio interference in much of our regional areas gives us the unique opportunity to develop our commercial industry for tracking space objects. As EOS Space Systems looks to expand across more sites in Australia, it will bring with it advanced technology and high tech jobs in infrastructure and systems operations to areas of regional Australia.
Professor Craig Smith, CEO of EOS Space Systems welcomes the opportunity to work with the Australian Space Agency to help achieve Australia's ambitions in space. "This statement will assist Australia to grow its world-leading capabilities in space situational awareness and debris monitoring and space communications," said Professor Smith. "Our business has been at the forefront of technical innovation in space for over three decades. EOS's success is underpinned by an exceptional skilled local workforce and collaborative partnerships across government, Australian business, academia and research institutions."
The Australian Space Agency is transforming the space industry, with a goal to grow the Australian space economy from $3.9 billion to $12 billion and creating 20,000 new jobs by 2030. Australia's 10-year plan for the civil space sector will ensure our space sector can gain a larger share of the U.S.$350 billion global space economy.