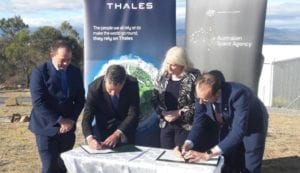 On 3 December 2019 the Australian Space Agency (ASA) signed with French aerospace giant Thales Group an agreement to develop Australian space capabilities.
The agreement with the ASA will see Thales provide its know-how and expertise in developing satellite systems.
Thales already has a large presence in Australia, providing a range of military and aerospace capabilities, but its involvement in the Australian space sector has been limited until this agreement.
Under the agreement, Thales will work with the ASA to identify areas for cooperation.
Karen Andrews, the Australian Minister for Industry, Science and Technology, said that, "This statement is designed to mutually identify key areas of investment as well as potential research, development and commercial opportunities."
Andrews added that Australian manufacturers have an opportunity to become part of global space supply chains through the ASA agreement with Thales.
"Engaging with big international players like Thales will allow Australian businesses, including our advanced manufacturers, to carve out a place in the international space supply chain," she said.
Through it's partnership with Italian company Leonardo, the Thales Group runs Thales Alenia Space, one of the largest and most reputable satellite manufacturers in Europe and the world.
Chris Jenkins, chief executive officer of Thales Australia, noted that the agreement with the ASA will expand and continue the company's business with Australian companies.
"Thales has been a long-term investor in Australia's advanced technology sector, through comprehensive technology transfer and close collaboration with research agencies and specialised Australian SMEs," said Jenkins.
"Together, Thales and the Australian Space Agency can build and develop the Australian workforce and SME sector to meet the future needs of the growing space economy," he added.