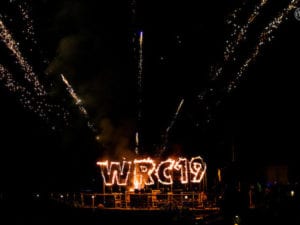 By Thomas Weber and René Woerfel
The World Radio Conference 2019 (WRC-19) in Sharm-el-Sheikh, Egypt, took place on 28 October to 22 November 2019. The conference brought together 3500 participants from the ITU membership representing the world of frequency management on this planet. The following commentary is a quick overview of satellite-related WRC-19 decisions.
New Satellite Service Frequency Allocations
There have been a number of decisions for new satellite service allocations or related requirements at WRC-19:
In-band power limits were agreed for Earth exploration-satellite service and the meteorological-satellite service in the 401-403 MHz and the mobile-satellite service in the 399.9-400.02 MHz bands. There are no limits for 400.02- 400.05 MHz which is limited for use by telecommand links;
A primary allocation to the mobile maritime-satellite service in the frequency band 1621.35-1626.5 MHz to be used for Global Maritime Distress Safety Systems was agreed. The band is used by the Iridium satellite constellation;
A new secondary allocation to the maritime mobile-satellite service within the frequency bands 157.1875-157.3375 MHz and 161.7875-161.9375 MHz to enable a new VHF data exchange system (VDES);
An additional allocation for gateway uplinks using the 51.4-52.4 GHz band within the fixed-satellite service.
Planned Bands
For the broadcasting-satellite plan in Appendices 30/30A of the radio regulations, for ITU Regions 1 and 3, there are new usage possibilities for newcomers that can submit a new filing by 20 May 2020. However only under certain conditions: the filing must have a national coverage, it will be subject to decision at WRC-23, and the procedure may be applied only by notifying administrations whose current national allotments shows a quite negative reference situation. Such a new filing is a replacement of current national allotments appearing in the Plans 30/30A. For the Appendix 30B – the planned frequencies for fixed-satellite service –  some simplified access rules to enter the Appendix 30B list have also been agreed.
In addition, a high number of detailed changes and amendments in the planned bands of Appendices 30/30A (BSS) and  30B (FSS) were agreed, including, as examples, clarifications, simplifications, example PFD calculations, discussing the relocation of test points, the change from assignments to allotments in case of non-deployment, and change of service area etc., to name but a few.
Milestone Process for Satellite Constellations
For the increasing number of NGSO satellite constellations, WRC-19 adopted a regulatory regime commencing on 1 January 2021. Mega-constellations will need to deploy 10% of their constellation within two years after the end of the current regulatory period for bringing into use, 50% within five years, and complete the deployment within seven years. Transitional measures were agreed to be applied to satellite systems for which the end of the seven year regulatory period is before 28 November 2022. Those systems will be exempted from meeting the first milestone after the regular two years. In exchange for this exemption, they are required to report their current deployment and operational information by 1 April 2023, including details on the status of coordination, and clear evidence for the procurement or manufacturing, and launching of, a sufficient number of satellites.
Also relating to satellite constellations, a scaling Factor for Article 21 PFD Limits for NGSO mega-constellations (> 1000 satellites) was agreed and will also be further investigated (an interim rule was established). There should not be any incentive to split mega-constellations into several smaller filings.
NGSO in Q-Band
A new regulatory framework for non-GSO FSS satellite systems that operate in the frequency bands 37.5-39.5 GHz, 39.5-42.5 GHz, 47.2-50.2 GHz and 50.4-51.4 GHz was agreed and a related coordination regime for NGSO constellations has been introduced. Existing NGSO constellations which are already within the notification stage (Article 11 of the RR) at ITU level are 'grandfathered', i.e. exempt from the new coordination regime.
Short Duration Missions
A new alternative and simplified regulatory regime for non-GSO satellite systems with short duration missions (<3 years) not subject to coordination was agreed. In addition, the VHF bands 137-138 MHz and 148-149.9 MHz for TCM links of such short duration missions were identified.
Earth Stations on Mobile Platforms
To address the increasing need for radio-frequency spectrum for Earth stations on mobile platforms (ESIM), WRC-19 decided on the regulatory and technical conditions under which the Ka-band at 17.7‑19.7 GHz/ 27.5-29.5 GHz can be used by the ESIM (on land, on vessels or airborne) communicating with geostationary (GSO) space stations in fixed-satellite services (FSS). This market trend for blurring the traditional regulatory boundaries between fixed-satellite service and mobile-satellite service cannot be stopped as seen in the ESIM or UAV examples but was the subject of considerable debates (especially with regard to sharing with terrestrial services) during the study process but also during the WRC itself as this implies a change in the regulatory philosophy.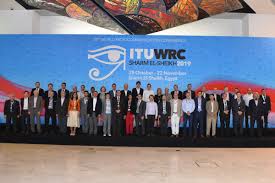 Unmanned Aerial Vehicles
Despite not having an agenda Item and strong individual efforts to postpone any UAV CNPC[1] via FSS related work to the WRC-23, all those needing work addressed in Resolution 155 (WRC-15) could finally be done during WRC-19, i. e. the review of a new PFD mask for protecting the Fixed Service in the 14 GHz band, but also to agree on a new agenda item for WRC-23 to finally review and revise the resolution including the corresponding footnote 5.484B. Due to the safety relevance of this application, ITU and ICAO[2] are closely collaborating. Based on the ITU inputs (system parameters, protection criteria, limits, etc.) the ICAO studies the link performance in comparison with its four main criteria: availability, continuity, integrity, and latency. Based on those study results, technical SARPs, guidelines and manuals will be created and endorsed but also the feasibility and airworthiness of the FSS based CNPC solution will be reported back to ITU forming – together with the ITU study results – the decision agenda for WRC-23.
Due Diligence Issues
WRC-19 agreed to request the next ITU Plenipotentiary Conference in 2022 to discuss Article 48 of the ITU constitution (military use) with regard to frequency assignments in satellite filings for which Article 48 has been invoked. This may allow the next WRC-23 to discuss improvements in the radio regulations with regard to such satellite filings.
No agreement was reached at WRC-19 with regard to a time limitation of RR No. 13.6 investigations (as part of due diligence actions, e.g. when one administration requests cancellation of a filing of another administration). A number of administrations were in favour of limiting the timeframe of investigations but without any change agreed, the existing 'case-by-case' policy is retained.
Non-Agreements
Some other agenda items of WRC-19 also ended up as 'no change,' which is the normal procedure when not coming to an agreement. This happened for example to agenda items 9.1.3 (NGSO procedures in C-band) or 1.3 (new EESS primary allocation in 450-460 MHz).
Removal of Inconsistencies, Simplifications and Amendments of ITU Processes
A lot of inconsistencies (or sometimes actions deemed as 'unnecessary') in the procedures of the Radio Regulations were removed or at least amended. Amongst them, simplifications with regard to the processing of API/C and draft CR/D publications, or for 40-40.5 GHz where a missing PFD Limit for MSS in table 21-4 was introduced; but also many other small amendments in the radio regulations as part of the work of the conference based on the reporting from the ITU director or the Radio Regulations Board of the ITU.
Satellite network notifications in the future can use more detailed information on a per-satellite network basis, not only on a country-by-country basis. This will allow improved possibilities for successful notifications (inclusions into Part II-S). This change is based on improvements introduced in the software used by the ITU enabling the radio bureau to do more detailed investigations.
Finally, as requested by several administrations at the WRC-19, the conference agreed to provide grants for specific satellite networks, mostly to extend the regulatory period for related satellite networks. Requests from Intelsat, India, China (for ASIASAT), Bulgaria, Egypt, Cyprus, and Indonesia received positive responses.
A novelty at the WRC-19 was the high number of proposals for subjects for future radio conferences. This forced the WRC-19 to not only agree on the agenda for WRC-23 but also to agree to a preliminary draft agenda for WRC-27. The list of satellite issues for WRC-23 includes: sub-orbital space/aircraft; VHF aeronautical mobile via satellite; an FSS UAS review; GMDSS e-navigation; spaceborne radars; the SRS at 15 GHz; EESS imagers at 242 GHz; Ku ESIM GSO; Ka ESIM non-GSO; ISS Ka-band; narrowband MSS additional spectrum; FSS at 17 GHz; space weather sensors; EESS 36-37 GHz; and study and amend ITU recommendations including unrealistic antenna parameters;  review protection of GSO satellite networks from NGSO satellite constellations in the military X-bands, and military Ka-bands.
Outlook
Filings for frequency assignments to NGSO satellite systems composed of hundreds to thousands of satellites have been received by the ITU since 2011, in particular in frequency bands allocated to fixed-satellite services (FSS) or mobile-satellite services (MSS). It remains to be seen whether the existing and historically driven coordination and notification processes at the ITU can successfully deal with this high number of NGSO satellites. Some of the coordination (or, more to the point, non-coordination) processes may need to be revised. Is the current satellite coordination process for mega-constellations with tens of thousands of satellites workable? We think not. There is a tendency to postpone the resolution of some challenges as long as they are not absolutely evident, e.g. it is doubtful that warehousing of frequencies has been substantially limited at WRC-19. Therefore, the satellite coordination procedures will have to further evolve in future conferences to adapt to the new needs or introduce more stringent coordination where needed, such as better protection of GSO satellites from NGSO emissions in some frequency bands.
The improvements for newcomer countries which do not have a single satellite in space in the planned BSS or FSS frequency bands is certainly a step into the right direction, though the effectiveness and economic feasibility of the approach is questionable. It could be regarded as 'too little and too late' since big players have already taken over these satellite plans with many satellite filings with international coverages.
The increasing demand for terrestrial mobile services ('5G') puts some satellite services under pressure such as EESS or FSS in C-band, whether it is for meteorological observations or any other change process on this planet. It will be important for regulators to make clear that these satellite-based services are in the interests of societies and that they deserve adequate protection.
Mr. Thomas Weber (Federal Network Agency) re-joined the Federal Network Agency frequency management at the beginning of 2019 and is responsible for satellite coordination matters. He was with the European Communications Office of the CEPT in 2010-2018 as expert for spectrum management and chairman of the WG FM Maintenance Group on Short Range Devices (SRD/MG). He dealt with many frequency management project teams in the CEPT dealing with spectrum monitoring, PMR/PAMR, satellite services, direct-air-to-ground communications and the European Common Allocations Table. Before that, he worked for the Federal Network Agency in Germany in 2001-2010 and was the chairman of several ETSI standardization groups dealing with ITS, PMR, DMR, GSM-R and UWB as well as the chairman for the DIN/DKE German National standardization committee on radio devices. He has also worked for several years for several satellite operators and in the satellite communications industry.
Mr. René Woerfel is a Partner and Senior Consultant of AUDENS Telecommunications Consulting GmbH for all aspects of satellite communications projects, especially on the end-to-end communications performance and for frequency coordination / frequency management issues on national and international level. For further information please see: www.audens.de.
NOTES:
[1] Control and non-payload communications.
[2] International Civil Aviation Authority.