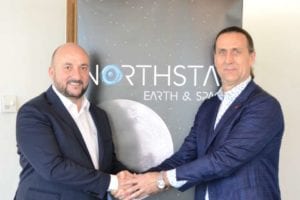 The Luxembourg Government and NorthStar Earth & Space signed a Letter of Intent to create a Centre of Excellence for Clean Space in Luxembourg and to consider a contribution to NorthStar and its innovation activities in order to promote the safe and sustainable use of outer space for the benefit of all humanity.
The Centre will be operated by NorthStar in Luxembourg, it will deliver highly accurate Space Traffic Management and Space Situational Awareness information services. The Centre of Excellence for Clean Space will enable collaboration and cooperation with the international academic, industrial and governmental partners from the space and data analytics sectors already established in Luxembourg. This will promote an open, safe and sustainable use of outer space for the benefit of all mankind, common goals shared by Luxembourg and NorthStar.
Étienne Schneider, Luxembourg's Deputy Prime Minister and Minister of the Economy stated: "The establishment of this Centre in the Grand-Duchy is in line with the country's efforts to stimulate innovation and technological development in the data space sector. The project fits perfectly into our national data-based innovation strategy that aims at building a sustainable and reliable digital economy in general and the sustainable commercialization of space activities in particular."
"The world faces global challenges which require technology companies and governments to innovate together," said Stewart Bain, CEO and Co-Founder of NorthStar Earth & Space. "NorthStar is dedicated to developing solutions critical to space governance, security and sustainability. As we move into the year 2020 and beyond, we are proud to have Luxembourg as our partner.