On 21 November 2019 the UKspace trade association published its 2020 manifesto for a future British government to consider. With the 12 December 2019 British General Election, and at some point soon thereafter, the UK exiting the European Union, the UKspace 2020 Manifesto comes at an important juncture for Britain's space industry as well as Britain's future direction in space.
What the sector needs to compete in the new space race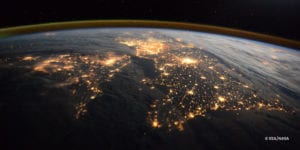 The 1969 moon landing came after John F. Kennedy boldly set out to overtake the Soviet Union in the space race. In 2019, there is an entirely different contest occurring as rival nations set their sights on the rapidly growing global spacetech market.
The UK space industry is thriving. Space-related organisations are growing in number, generating high-skilled jobs and high-quality economic output in the process. But whether the UK space sector continues to thrive in this brave new world, depends on the political choices made today.
Brexit presents opportunities for the UK but there are also multiple risks that need to be carefully managed. If we fail to properly invest in the industry, then the UK risks standing still as other nations make great leaps forward. By taking concerted action now, our politicians could yet capitalise on a massive global market.
With five key recommendations, our 2020 Manifesto sets out the actions that the next government must take to unleash the transformative potential of the UK space sector – and ensure that the UK is a big winner in the new space race.
OUR POLICY RECOMMENDATIONS
Space is a long-term business and requires established and enduring budget lines to enable industry to plan and deliver their investments. European Space Agency (ESA) funding provides this assurance and is therefore fundamental to ensuring that industry can develop and manufacture the space technologies, capability and supply chains needed to secure the United Kingdom's role in the global space market. Without ESA funding, UK's space sector would be second class and we would lose our ability to compete on a global stage.
The Government must commit to increasing space funding from all current sources. This particularly applies to current levels of spending through ESA, which has always delivered excellent returns for UK business. Without this commitment, many UK firms will face challenges to maintaining international supply chains across Europe post-Brexit.
2. National Space Programme
The Government should establish a National Space Programme, which includes a new £150m-a-year Innovation Fund. The National Space Programme's primary objective would be to ensure that the UK space sector plays an increasingly prominent role in the global space market, building cross-country partnerships and exporting knowledge and equipment.
Space is a research and development intensive sector and requires co-investment from government. Hence, the £150m a year Innovation Fund would focus specifically on R&D. The allocation of Innovation Fund resources would be agreed between government, the space sector and other relevant bodies to the sector (such as universities).
The National Space Programme should focus on areas of strength and priority for the UK. These have been reviewed by the sector and UK Space Agency and proposed to be:
Commercialisation of R&D. This would help the sector to make the most of opportunities to lead in the world in areas from space application of Quantum technology, AI, robotics and advanced manufacturing.
Exploring space sector priorities. The space sector has identified five programmes that it thinks could be areas of focus within a National Space Programme. These are:

Sovereign geospatial data. Creating a step-change in the storage, maintenance, fusion and analysis of big, complex EO data sets to accelerate real-world applications.
Ubiquitous, resilient and secure connectivity. Ensuring that space networks are fully integrated into emerging mobile networks.
Resilient position, navigation and timing security solutions. Developing UK supply chains for new technologies that will underpin future resilient Position, Navigation and Timing and security solutions, supporting the UK's critical national infrastructure.
In-orbit assembly, servicing and debris removal. Improving in-space capabilities and manufacturing without damaging the environment on which it depends, including new fully sustainable satellites and in-orbit management processes.
Food security. Increasing the use of space services to improve land management, crop yields, livestock husbandry and transport logistics at reduced cost with high reliability.
The UK's post-Brexit participation in a new global satellite navigation system must be secured, whether through ESA or a sovereign capability. The 2019 Spending Review committed to continuing to provide £191m of funding to support Brexit-related activities "including the development of a UK Global Navigation Satellite System option and delivering business stability for company law and audit." Following this initial design phase, the estimated cost of the programme is £5bn. This needs to be reflected in long-term budget lines to sustain key precision, navigation and timing skills in the industry.
The understanding that we have on climate change is mostly due to Earth observation satellites monitoring the environment from space. The sector is also playing a crucial role in monitoring the reduction in carbon emissions to help achieve the target of Net Zero by 2050. The UK space sector must be able to bid to lead future missions by the Copernicus programme post-Brexit. This would be through either ESA and a post-Brexit agreement with the EU to remain as a partner on the programme. As things stand there is around $1bn of future work the industry can bid for – but we need a seat at the table.
5. National Space Council
The new National Space Council must be given the powers and funding required to drive the sector forward. Once implemented, the NSC could join up space strategy across Whitehall and help to ensure that public money is used to benefit government services and support industry growth. The National Space Council should have appropriate engagement with industry and academia to enhance its knowledge and credentials. One position on the council could be for a 'national space tsar', who has the remit to work closely with the minister and advise on space policy.