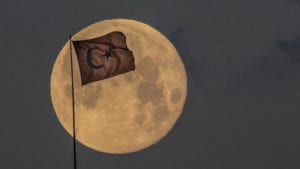 Turkish President Erdogan issued a decree on 21 November 2019 that formally establishes the Turkish Space Agency. The presidential decree was published in an official gazette of the Turkish government.
The Turkish Space Agency will prepare and carry out the Turkish national space programme in line with the policies determined by the president, the decree said. The new body will have financial and administrative autonomy as well as a special budget.
In August 2019, Turkish Industry and Technology Minister Mustafa Varank said that The government in Ankara was forming the Turkish Space Agency in order to strengthen its aerospace industry, improve scientific infrastructure, and increase human resources in the field of space technology.
The Turkish Space Agency will report to the Ministry of Industry and Technology, but will coordinate and cooperate with other government ministries and agencies as required in the fulfillment of its mission. The agency has a mandate from President Erdogan to organize, coordinate, and manage all Turkish space activities, to include research and development, advocacy and education, and international cooperation and representation. The agency is also charged with ensuring all national and international laws applying to space are enforced and implemented.
The Turkish Space Agency will be headquartered in Turkey's capital city, Ankara.
Significantly, though subject to budgets in these uncertain times, the Turkish space agency is empowered to help establish a national space industrial base and research and development ecosystem with the purpose of establishing Turkey as a regional space power. This remit includes the development of satellite technologies and associated infrastructure, a national launch capability, as well as to encourage young people to enter the space sector as a career, and create the necessary conditions to create a commercial space industry in Turkey.
One strategic purpose of the Turkish Space Agency is to, "reduce external dependence in space and aviation science and technologies, to increase the competitiveness in the international arena, to create scientific and technological infrastructure and to develop new technology."
"We are forming the Turkish space agency in order to strengthen our aerospace industry, improve scientific infrastructure and human resources in the field of space technology and further boost our capacities and abilities," a Turkish government spokesperson said in December 2018.