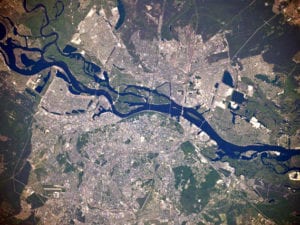 The Ukrainian parliament passed the country's first commercial space law, titled "On Amendments to Certain Laws of Ukraine on the State Regulation of Space Activities," that was signed on 25 October 2019 by Ukrainian President Volodymyr Zelensky, according to Oleksiy Burchevskyy of the Kinstellar law firm writing in Lexology.
Until this legislation all space activities in Ukraine have been carried out solely by state operators. As of 29 January 2020, most of the new commercial space law will come into force, with the remaining provisions of the legislation coming into effect by the end of October 2020.
Once an integral and even iconic part of the Soviet, and then post-Cold War Russian, space programme, Ukraine's space activities and fortunes have been in decline since 2014 when Russia annexed Ukrainian territory in the Crimea and the Donbas. This has resulted in crippling economic difficulties as well as the challenges of decoupling the Ukrainian space industry from Russian supply chains and overall economic orbit.
The Ukrainian State Space Agency, along with Ukrainian space industry giant Yuzhnoye, has been a powerhouse in space and satellite launch capabilities over the years, though not always commercially successful as with the case of Sea Launch.
The new Ukrainian commercial space law will allow private Ukrainian citizens and companies to commercially exploit and explore Earth orbit and beyond from Ukraine and under Ukrainian jurisdiction. A parallel aim, apparently, is to also reduce the role in the supervision of Ukrainian space activities by traditional state operators.
Under the new law, private companies seeking to conduct commercial space activities in and from Ukraine will have to submit a declaration to government authorities. Commercial space activities that will involve rocket engine testing, satellite launch, and the control of satellites from Ukrainian territory will require a state permit.
Shortly after President Zelensky signed the legislation into law, U.S. commercial satellite launch company Firefly Aerospace placed a U.S.$15 million order with Ukraine's Yuzhmash rocket plant for the production of rocket parts. Firefly Aerospace is owned by Noosphere Ventures, founded by Dr. Max Polyakov who is a U.S. Citizen originally from Ukraine.