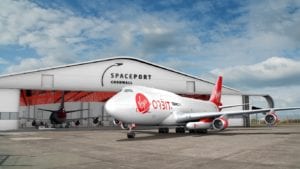 The UK Space Agency will award £7.35 million to Virgin Orbit UK Limited, the UK branch of U.S. launch operator Virgin Orbit, to enable horizontal launch of small satellites at Cornwall Airport Newquay, it was confirmed on 5 November 2019.
The funding will help to develop advanced ground support equipment, including UK-based manufacturing of key equipment, and conduct mission planning. Together with funding from the Cornwall Council for spaceport infrastructure, this grant helps secure the first satellite launch from Spaceport Cornwall, which Virgin Orbit are planning for the early 2020s, pending regulatory approvals.
Spaceport Cornwall estimates a horizontal launch spaceport at Cornwall Airport Newquay could create 150 immediate jobs, with additional opportunities for local businesses in directly supporting the site.
Science Minister, Chris Skidmore, said, "We want the UK to be the first country in Europe to give its small satellite manufacturers a clear route from the factory to the spaceport. That's why it's so important that we are developing new infrastructure to allow aircraft to take off and deploy satellites, a key capability that the UK currently lacks. Today's announcement will help the UK to harness the commercial opportunities offered by the global space industry and put the UK firmly on the map as Europe's leading launch destination."
Access to space is a vital tool for global efforts to tackle climate change, as satellites give the science community key measurements of temperature, sea levels and ice cover, while improving management of natural resources. The government is clear that launch activities must not unduly affect the environment and independent research carried out by the University of Exeter demonstrates that Spaceport Cornwall is not expected to have a significant impact on Cornwall's overall greenhouse gas emissions and efforts to combat climate change.
The UK Space Agency originally announced its intention to award funding to Spaceport Cornwall and Virgin Orbit in June, subject to approval, as part of a wider £20 million funding package from Cornwall Council and the Cornwall and Isles of Scilly Local Enterprise Partnership. Today's announcement by the UK Space Agency follows the completion of the necessary due diligence and conclusion of the grant agreement with Virgin Orbit UK Limited. Cornwall Council are expected to confirm whether they will award £10 million capital funding to the project at a council meeting later this month.
This new funding will complement the recent award of £300,000 from the UK Space Agency's targeted development fund to further support Cornwall's ambition to be a centre for future flight technologies.
Pending regulatory approvals in the U.S. and UK, Virgin Orbit plan to operate its LauncherOne system from Cornwall Airport Newquay using a modified Boeing 747 jet to carry the launcher system. Virgin Orbit will make its own contribution to the project of around £2.5 million, with the company's launch activities helping to attract new business and investment opportunities, as well as inspire the next generation of scientists and engineers.
Dan Hart, CEO of Virgin Orbit, said, "We're tremendously excited to be supporting the UK Space Agency and Cornwall Council by bringing space launch to the UK. By establishing a strong local hub for our launch system, this joint project will boost UK participation in a fast-growing global space economy while also providing direct, ready, and responsive access to space for government missions. We very much look forward to furthering our ties with the cutting-edge satellite innovators across the UK and with local industry, who will be critical partners in fulfilling the full potential of this endeavour. We're eager to set up a world-class launch facility at Spaceport Cornwall, bring domestic space launch to the UK, and launch the next generation of satellite developers in their quest to better understand our Earth and our environment, connect human kind, serve national security, and explore our solar system."
Minister for the Future of Transport, George Freeman said, "This latest investment in Spaceport Cornwall and Virgin Orbit is the exciting result of Government and the aerospace sector working together to help potential spaceports realise their global ambitions. The UK is a world leader in small satellite technology and we are committed to supporting the UK as a world leader in space technology, and establishing a network of spaceports that enables us to operate regular flights is key to that."
To help grow the UK's spaceflight capabilities, Government is funding a range of industry-led projects including £31.5 million to help establish launch services from a new vertical launch spaceport in Sutherland, Scotland.