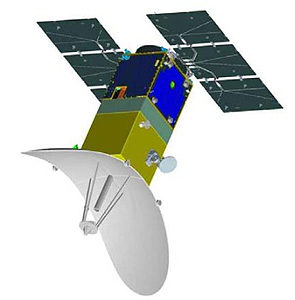 The Vietnamese government has finally made the formal order for its LotuSat-1 Earth observation satellite from Japanese satellite manufacturer NEC and Sumitomo Corp. The order was made in Tokyo on Friday, 18 October 2019.
LotuSat-1 is based on the Japanese-designed ASNARO-2 Earth observation satellite, and will be used to help provide forecasting for extreme weather events as well as high-resolution remote sensing. The LotuSat-1 order is thought to be worth approximately U.S.$184 million, and NEC and Sumitomo Corp. are being paid through a state-backed loan from the Japan International Cooperation Agency (JICA).
"This contract is the symbol of the exceptional relationship between Vietnam and Japan, and I expect it to serve a role in disaster prevention and other fronts," Chu Ngoc Anh, the Vietnamese science and technology minister, said after signing the agreement with NEC and Sumitomo Corp.
It is expected that LotuSat-1 will be launched for Vietnam by 2023, though no specific details have been provided on launch provider at the time of publication. Both NEC and Sumitomo Corp. are hoping to secure an additional order from Vietnam  for LotuSat-2 in the coming months.
The LotuSat Earth observation project for Vietnam has been in the works for several years, but has run into several problems revolving around U.S. International Trafficking in Arms Regulations (ITAR) export controls and related regulatory issues in Japan and Vietnam. A number of LotuSat components are sourced from the United States, but the U.S. government expressed strong concerns about the lack of regulatory framework in Japan and Vietnam that would satisfy American policy makers that the LotuSat end users would not share sensitive technology with unauthorized third parties.
Until regulatory fixes were made in Tokyo and Hanoi the LotuSat satellite project was put on hold. The formal order on 18 October 2019 suggests that these regulatory issues have finally been resolved, with LotuSat-1 being NEC's first foreign order.
Vietnam has expressed its wish that Vietnamese engineers be involved in the construction and integration of LotuSat-2, something that is believed to have been of concern to U.S. officials. Should NEC and Sumitomo Corp. win the LotuSat-2 order, it will be interesting to see whether Japanese and Vietnamese regulatory frameworks will allow Vietnamese involvement in its manufacture while allaying U.S. concerns.