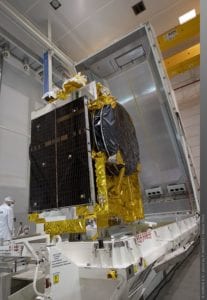 TIBA-1, the communications satellite for the Government of Egypt developed by Airbus and Thales Alenia Space (TAS) left the Airbus Defence and Space clean rooms in Toulouse. The spacecraft was flown to French Guiana on 16 October 2019, ahead of its launch from Kourou on an Ariane 5.
Airbus Defence and Space and TAS are jointly responsible for building TIBA-1 and delivering it in orbit. Airbus Defence and Space, supplied the Eurostar E3000 platform and assembled and tested the spacecraft. TAS, the leading partner, designed and built the communications payload, featuring a dual mission in Ka-band for secure and broadband communications.
TIBA-1, designed to remain in service in orbit for more than 15 years, will have a launch mass of 5,600 kg and an electric power capability of higher than 9 kW.
Egyptian President Abdel Fattah El Sisi signed a U.S.$600 million contract with then French President François Hollande in April 2016 for TIBA-1 and its launch by Arianespace.
In December 2015 it was reported that Egyptian military officials were in discussions with the French for the acquisition of a military communications satellite and a high-resolution Earth observation satellite. Reports at the time suggested that the discussions on these satellites ran into technical issues that could not be resolved quickly.
Further, in February 2016, Space News reported that the French Government had influenced officials at the International Telecommunication Union (ITU) in Geneva, Switzerland, to allow Egypt to keep an orbital and frequency slot that had expired because Cairo had failed to place a satellite in orbit within the required timeframe. This development has caused controversy within the ITU as it is perceived by others to be an unfortunate precedent that will allow other countries to reserve scarce orbital and frequency slots for years without placing operational satellites in them.
Ultimately, the Franco-Egyptian satellite deal that was signed in April 2016 did not include a high-resolution Earth observation satellite.
According to French newspaper La Tribune, Egyptian officials balked at the price of a proposed French Earth observation satellite that was on offer, and instead went with a cheaper imaging system from a Russian company.