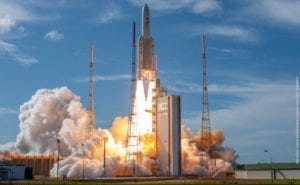 Arianespace marked another success for global telecommunications with launch of the Intelsat 39 and EDRS-C satellites, which were deployed to geostationary transfer orbit on its latest flight using a workhorse Ariane 5.
This mission – designated Flight VA249 in Arianespace's numbering system – was performed from the Spaceport's ELA-3 launch zone in French Guiana, with Ariane 5 deploying its passengers during a mission lasting 33 minutes from liftoff to final separation.
A daytime liftoff for the ArianeGroup-supplied Ariane 5
The Ariane 5 lifted off as scheduled at 4:30 p.m. (local time in French Guiana), providing an excellent view of the launcher's initial trajectory during its daytime launch – including separation of the two solid propellant boosters at just over two minutes into the flight.
Ariane 5 – which is delivered to Arianespace by ArianeGroup as production prime contractor – provided an estimated total lift performance of 10,260 kg. on today's mission, factoring in Intelsat 39 and EDRS-C, plus hardware for the dual-payload deployment system.
"With this third Ariane 5 of the year orbiting our fifth and sixth GEO [geostationary orbit] satellites, our heavy-weight launcher reasserts its leading position on the GEO market," said Luce Fabreguettes, Arianespace's Executive Vice President – Missions, Operations & Purchasing. "Indeed, VA249 marks the 377th and 378th GEO satellites orbited by Arianespace! Let me congratulate all our partners who played their part in this success."
Another success for Intelsat
Deployed first in the flight sequence, Intelsat 39 is designed with both wide and high-powered steerable spot beams to meet the needs of broadband networking, video and government customers across Africa, Asia, Europe, the Middle East and Indian Ocean region. The steerable spot beams provide flexibility within the payload and enable customers to rapidly and efficiently respond to shifts in geographic or application requirements.
Built by Maxar Technologies, the satellite features C-and Ku-band capabilities to provide additional scale for Intelsat's Flex managed service and enhance mobile connectivity for aero, maritime and government users operating across these regions.
Intelsat 39 is the 61st Intelsat spacecraft launched on an Arianespace mission, continuing a partnership that extends back to 1983. The satellite will replace Intelsat 902 – lofted by Arianespace in 2011 – at an orbital position of 62 deg. East.
Expanding the SpaceDataHighway
EDRS-C – released next in the flight sequence, four minutes after Intelsat 39 – is the second node of the SpaceDataHighway, which is the world's first "optical fiber" network in the sky based on cutting-edge laser technology. Permanently fixed over a network of ground stations, the SpaceDataHighway will help improve environmental and security monitoring, disaster response and crisis management.
Based on a platform supplied by OHB System, EDRS-C will be able to connect low-orbiting observation satellites via laser at a distance up to 45,000 km., as well as unmanned aerial vehicles or mission aircraft – operating from an orbital position at 31 deg. East.
The SpaceDataHighway is a public–private partnership between Airbus and the European Space Agency (ESA), with the laser terminals developed by Tesat-Spacecom and Germany's DLR Aerospace Center. Airbus owns, operates and provides services for the SpaceDataHighway. EDRS-C was the 132nd satellite launched by Arianespace at the service of Airbus.
EDRS-C also carried a hosted payload – HYLAS 3 – which was provided by Avanti Communications under a contract with ESA as a customer-furnished item to OHB. It is this operator's fourth satellite to be launched by Arianespace.
Ariane 5 by the numbers
As Arianespace's third Ariane 5 launch in 2019, Flight VA249 follows the company's other heavy-lift missions performed this year on 5 February 2019 (carrying Saudi Geostationary Satellite 1/Hellas Sat 4 and GSAT-31) and 20 June 2019 (T-16 and EUTELSAT 7C).
Flight VA249 also marked the 105th launch of an Ariane 5.