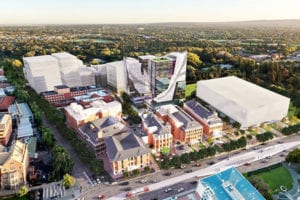 South Australian startup Neumann Space has joined the growing space ecosystem at Lot Fourteen, bolstering the precinct's reputation as the ideal place for innovative collaboration across high-growth industries. The company, which is developing cutting-edge propulsion technology to improve the thrust performance of satellites, is among a raft of new tenants at the nation's premier innovation hub, and co-located with Inovor Technologies. A Memorandum of Understanding between Neumann Space and Inovor Technologies has been signed, to strengthen the collaboration on space technology development moving forward.
Under the agreement, Neumann will provide Inovor with the thrust propulsion system needed in their nanosatellites. This completes the Australian supply chain and demonstrates the developments taking place at Lot Fourteen as a direct result of the unparalleled collaborative opportunities. "I'm delighted to see Neumann Space be a part of the thriving neighbourhood at Lot Fourteen, which is already home to the Australian Space Agency, SmartSat CRC, Myriota, Inovor Technologies and a growing cluster of companies in high-growth industries such as defence, space and cyber," Premier Steven Marshall said.
"This strategic move will enable Neumann Space to seize opportunities and collaborate more closely with industry partners, researchers and mentors to support the development and commercialisation of their technology. "I congratulate Neumann and Inovor on pledging to work together and committing to share expertise and experience. "This level of collaboration will further strengthen the capability of our local space ecosystem, and help us make a footprint on a national and international scale."
The Marshall Liberal Government will also provide AUS$850,000 in funding to support the growth and development of Neumann Space, through the Department for Innovation and Skills' Research, Commercialisation and Startup Fund. Minister for Innovation and Skills David Pisoni said the decision of Neumann Space to relocate from Sydney to Adelaide was a vote of confidence in the South Australian economy and demonstrates how the innovation precinct at Lot Fourteen is going from strength to strength. "The Marshall Government is making this funding available on behalf of South Australian taxpayers because there are enormous economic and employment benefits flowing from the activity that is occurring in these emerging industries at Lot Fourteen," Minister Pisoni said. Mr Peter Schultz, Executive Chairman of Neumann Space said Lot Fourteen is the ideal location for his company to thrive. "We now know for certain we made the right decision to relocate the company from Sydney to Adelaide," said Mr Schultz.
"The vision, inspirational environment and understanding of the needs of technologically leading-edge startups is just right, and the State Government should be congratulated on their vision."