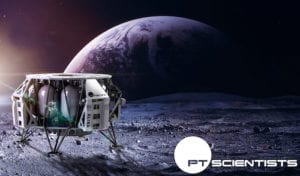 Berlin space start-up, PTScientists filed for bankruptcy on Friday, July 5, 2019, with the competent district court, Charlottenburg, Berlin. This was due to unplanned delays in the acquisition of further incentives and subsidies for the planned Moon mission. The resulting liquidity shortage made the application legally necessary. Lawyer Sascha Feies has been appointed as provisional insolvency administrator. The business operations and research projects of the scientific enterprise continue to run without any restrictions during the insolvency proceedings.
Employees at PTScientists continue to work on making the first European moon mission a reality. The company is the only one in Europe that has a lunar lander at an advanced stage of development. PTScientists are working together at with the European Space Agency (ESA) and the aerospace group ArianeGroup.
ArianeGroup and PTScientists are investigating a future ESA lunar mission as part of a joint study. The ISRU mission is to test technical procedures for using the resources of the moon.
"The bankruptcy petition throws us back a little in time, because we first have to secure together with the insolvency administrator, the further financing of the company," said Robert Boehme, founder and CEO of PTScientists. "However, given our clear progress and achievements that we have demonstrated in recent months, we are well placed to emerge from the insolvency process and implement our lunar mission as planned."
The district court Charlottenburg has appointed the lawyer Sascha Feies of the law firm GÖRG as provisional insolvency administrator. The experienced bankruptcy expert will review documents and speak with corporate executives over the next few days to identify funding options for the space company and its approximately 60 employees, most of them highly qualified engineers and scientists.