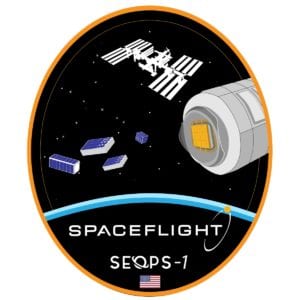 Spaceflight has announced that it is providing mission management and rideshare integration services on an upcoming launch from the International Space Station (ISS) and Northrop Grumman's Cygnus launch vehicle. Spaceflight bought the capacity through an arrangement with Hypergiant SEOPS for a variety of customer spacecraft, including: RFTSat from Northwest Nazarene University; selected for flight via NASA's CubeSat Launch Initiative; NARSSCube-2 from NARSS-Egypt developed by researchers from NARSS-Egypt for technology demonstration and environmental study; launch was coordinated by Smart Integrators and an undisclosed 6U Cubesat
In a unique arrangement, the spacecraft will be arriving at the ISS through an ISS Cargo Resupply Mission aboard via a SpaceX Falcon 9 Dragon capsule from Cape Canaveral Air Force Station in late July. Spaceflight has named the mission SEOPS-1, but it is also referred to as ISS SpX18/NG11, representing the launch vehicles meeting at the ISS (a SpaceX Falcon 9 Dragon and a Northop Grumman Antares Cygnus).
"We are always looking for creative and innovative ways to get our customers' spacecraft in orbit, and our partnership with Hypergiant SEOPS helps us deliver on this promise," said Curt Blake, CEO of Spaceflight. "The rideshare campaign is a low schedule risk option because of the regular cadence of ISS Cargo Resupply Missions and the maturity of the Dragon/Falcon 9 and Cygnus/Antares launch systems. We're looking forward to commissioning more of these types of missions in the future."
The Cygnus vehicle is already docked at the ISS, following its launch on April 17, 2019 and landing on April 19, 2019. During the weeks following the arrival of the Dragon capsule in late July which will carry the rideshare customers' spacecraft, the ISS crew will transfer the cargo from the Dragon to the ISS, where they will place the SEOPS SlingShot Deployer with the installed satellites into the SlingShot hardware attached to the Cygnus hatch bulkhead. After the ISS side-hatch is closed and the space between the ISS and Cygnus spacecraft depressurized, the ISS robotic arm will unberth the Cygnus from the ISS. Cygnus will then manoeuvre itself to a higher orbit (450-500 km altitude, 51.6-degree inclination) to deploy the satellites and conduct more tests.
SEOPS brings a wealth of experience to the mission, with personnel who have been responsible for deploying more than 200 small satellites from the ISS and Cygnus spacecraft since 2012. The team was responsible for the development, construction, qualification, safety and integration of these satellites through the NASA Human Space Program, one of the most demanding government qualification programs for spaceflight. In February 2019, SEOPS successfully completed the deployment using the SlingShot deployer from NG-10 – Cygnus.
"Our focus is on improving the Earth-to-Space experience for all customers whether it's through our ability to use machine learning and AI to interpret complex data, or in improving the ability of our customers to get to space when they want, how they want," said Chad Brinkley, Chief Space Officer at Hypergiant. "Spaceflight has been an integral partner in continuing to provide the best-in-class experience for our customers."